Dear Taoiseach,
Is this the only reply you are capable of.
(The Department of Taoiseach:)
I acknowledge receipt of your email to the Taoiseach, Leo Varadkar T.D.
Is mian liom a admháil go bhfuarthas do ríomhphost chuig an Taoiseach, Leo Varadkar T.D
While I appreciate that it is not possible to reply to everyone this is what is wrong with Politicians, hiding behind the unnamed relying on Algorithms.
So in the vain hope of attracting your attention, I am publishing the letter in my Flipboard Magazines. With a request that my reader past it on.
I have also sent this letter to the Irish Times in the hope they might publish it.
The  letter:
16/07/2019
Dear Taoiseach,
I write as a man from the land of the Green.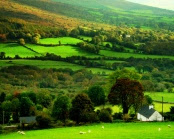 In my life, I have had the great gift of travelling a great deal of the world both by land and sea.
We have recently celebrated the first man on the moon some fifty years ago.
Then as a much younger man, I watched Armstrong place his foot with the famous words.
"That's one small step for man, one giant leap for mankind."
Never did I think that our world so full of life and beauty might become the dust that his boot stood on.
Every human being has a relationship with plastic but unfortunately not ever one has a relationship with nature that is now facing a crisis that requires once again International recognition of the Unity of the Globe that the moon landing did all those years ago.
This is where Ireland under your leadership has a moral duty to call on all nations of the world to attend a unity of the global conference, in the Emerald Isle the land of forty shades of green.
The Paris Climate change conference achieved shallow unbinding promises.
The clock is ticking until the next US election starting in November 2020 with the winner inaugurated on Wednesday, January 20, 2021.
Just think of the influence of such a world meeting would have on the election of new USA president and its policies re Climate Change.
If you want to leave a legacy to be remembered by other than the backstop/Brexit what better opportunity to promote the Green.
This gathering should have not just world leaders but leading Industrials, representatives from world organisations and the young that are going to inherit the earth.
Its sole purpose is to present the facts from all side and recognize the need for the world to act as one and achieve a just climate change program that is binding and fully financed – a moon landing moment.
The venue could be at Croke Park.
Ireland could lead by example such as banning combustion engines from its major city centre once a month, declaring clear skies once a month, granting long term repayable governments grants to green energy initiatives like solar panels.
For every participant in attendance.
Ireland could plant a tree to offset their travelling carbon footprint.
Yours Faithfully,
Robert de May Dillon.
Contact Details.
Tel No.  0565416843.
E-Mail. bobdillon33@gmail.com
Address. Moulin de labarde, L'Abbey Nouvelle, 46300 Lot France.