( A Two minutes Unscientific though.)
In the sciences generally, time is usually defined by its measurement: it is simply what a clock reads. However, since the advent of relativity most physicists agree that time had a beginning and that it is measured from, and indeed came into being with, The Big Bang some 13.8 billion years ago.
Physics is the only science that explicitly studies time, but even physicists agree that time is one of the most difficult properties of our universe to understand.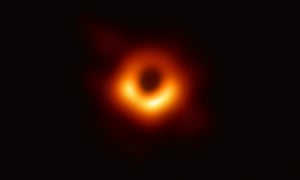 We don't really understand exactly how the universe was born in the Big Bang.
In a past post, I advocated that there was no such thing as the big bang because space-time itself is a product of the special early stage of the universe.
IN THAT POST MY UNSCIENTIFIC LOGIC ARGUED THAT ATOMS HAD TO BE IN EXISTENCE BEFORE THE BIG BANG FOR IT TO HAPPEN IN THE FIRST PLACE. THERE CANNOT BE AN EXPLOSION WITHOUT SOMETHING TO HEAT.
Now we have the first picture of a Blackhole that gives the first direct glimpse of a black hole's accretion disc, a fuzzy doughnut-shaped ring of gas and dust that steadily "feeds" the monster within.
The illuminated dark shadow within marks the edge of the event horizon, the point of no return, beyond which no light or matter can travel fast enough to escape the inexorable gravitational pull.
The event horizon beyond which all reality as we know it is distorted beyond recognition and physical laws collapse, which cannot be seen by definition.
As far as we know black holes are stars that run out of energy and collapse in on to themselves. Depending on their mass and proximity to other black holes they eventually form a super black hole at the centre of their galaxies.
As a result, all matter within that universe orbits around the super black hole and depending on how near or fast the orbit eventually in time will be eating.
As time can't move with respect to time. Is time an emergent property or a fundamental property?
The singularities within the black holes do not bend space. It's not a property of time itself. So is it logical to say that time itself emanates from the black hole?
They create time its self, gravity and stars. Stars form inside dense concentrations of interstellar gas and dust called molecular clouds.
Depending on different notions of the ultimate fate of the universe time is an illusion because space-time is finite in extent, but doesn't have any boundary or edge.
Things ~can get out of a black hole, both to the outside, and possibly, to another universe.
The images now making the rounds are of a supermassive black hole, with the mass of 6.5 million suns, lying at the centre of the galaxy Messier 87. luckily is 53 million lights years away our one is 26 thousand light-years away in a milky way.
All galaxies within the known universe have a super black hole KNOWN AS A SINGULARITY at their centre around the universe that it exists in will eventually collapse.
So perhaps the start of the known universe was two super black holes colliding.
Should we be worried?  We have no time to stand and stare.