(A three-minute read)
She has so far defined herself more in words than deeds.
She has – at least in words, we will see about the reality – junked the austerity agenda.
Mrs May has had just over 100 unelected days in Number 10, during which she has done a deft job of obscuring her vulnerabilities by projecting herself as a fresh yet solid leader serenely stepping in to take charge.
Lunch with Theresa May?  That will be £3,150.  Value for money.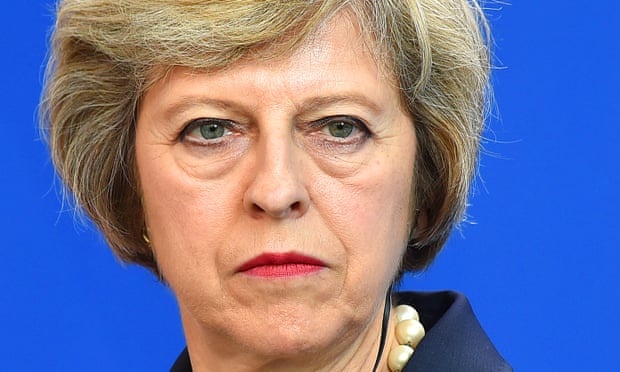 Let's look at it using the background of  Britain's record national debt, which just surpassed £1.8 trillion, (The truth however is much worse, factoring in all liabilities including state and public sector pensions, the real national debt is closer to £4.8 trillion,) some £78,000 for every person in the UK.
If you lay £5 notes on top of each other they would make a pile 253,568 km, or 157,560 miles high!
Interest per Year  £41,230,597,671
Interest per Second£1,307
Debt as % of GDP 83.49%
The budget deficit already stands at approximately 4% of GDP and, at that level; any fiscal expansion could cause a fall in international confidence.
Hinkley Point:
In 2013 the English Government guaranteeing the EDF it would be paid £92.50 per megawatt-hour for the electricity generated by Hinkley Point over a 35-year contract due to run between 2025 and 2060. This is more than double the current annualised rate for wholesale electricity prices. It means that Hinkley Point should generate between £100bn and £160bn of revenue in cash terms for EDF and CGN over 35 years. The £92.50 figure is based on 2012 prices but it rises each year in line with inflation.
EDF is funding two-thirds of the project, which will create more than 25,000 jobs, with China investing the remaining £6bn for 7% of Britain's electricity needs.
The government will also take a special or "golden share" in all future new nuclear projects. This will ensure that significant stakes cannot be sold without the government's knowledge or consent.
The plan to build the two EPR units for £18bn (€21bn, $24bn) at Hinkley Point was hit with an unexpected delay in July as the new UK government decided to hold another review only hours after EDF – the project's state-owned French developer – had given it the go-ahead.
EDF executives told the British government that it would have to take a stake of up to £6bn in the Hinkley Point nuclear power station to avoid a "disaster" if the Chinese decide to withdraw from the project who warning that if the plug was pulled on Hinkley Point it would damage the relationship between England and China.
If the state-backed company manages to build the power station and get it running by the target date of 2025, EDF and its Chinese partner stand to generate a profit of tens of billions of pounds on the £18bn project when it start operations in 10 years time.
The UK government says it will have control over foreign investment in "critical infrastructure". So far £2.5bn  has being spent on site preparatory work.
Her first ( G20 summit) changed any doubts she had.
Bonkers.
Replacing Trident:  
Will cost at least £205bn.
£205 billion of public money is a huge amount. Pouring it into a nuclear weapons system that experts say could be rendered obsolete by new technology is hardly a wise choice. Far better to spend it on industrial regeneration, building homes, tackling climate change or meeting our defence needs in usable ways.
The cost of disposing the existing Trident fleet would be at least £13bn in today's prices.
 Two new aircraft carriers.
HMS Queen Elizabeth was launched in July — are the most expensive items of military kit in the British armoury, at a cost of £3.1bn each, considerably more than originally budgeted for.
Their usefulness will also depend on a host of other additional spending commitments, such as the number of new F35 jets that will be flown off them or the number of other Royal Navy ships that can be deployed to protect them.
So far eight of the F-35B Lightning jets EACH plane costs £100 million have being ordered and if sterling weakens price will go up.
The overall order is for 48 of the jump jet F-35Bs by 2023 and will eventually go on to buy a fleet of 138.
The US-built F35s have spiralled in cost and have been beset by serious technical problems in development.
Bonkers.
Next:
HS2:
The zombie train that refuses to die, a project born of political vanity not rooted in commercial reality or value for tax payers money.
The UK currently has just 113 km of high-speed rail line.
It will mark the start of the most extravagant infrastructure project in Britain's history: High Speed 2, a railway line running 335 miles from London to Birmingham, Manchester, Sheffield and Leeds. The line is budgeted at £55bn, although late last year its cost was widely reported to be closer to £70bn.
The whole concept of HS2 came out of intense political lobbying from the construction industry who want to build it. Those same firms have since been hired to produce the designs and budgets, and this has made sure HS2 has been gold-plated right from the start. HS2 is just one big gravy train for advocates with massive vested interests.
If it is built, HS2 would be the most expensive railway in the history of the world, surely sucking up the entire rail infrastructure budget for decades to come, and squeezing out more deserving, cheaper and cost-effective projects.
The UK's cost per km is the highest among any of the major high-speed rail countries – with HS1 costing £51.3m per km and HS2 estimated to cost £78.5m per km.
High Speed Two (HS2) Limited is the company responsible for developing and promoting the UK's new high-speed rail network. It is funded by grant-in-aid from the government.
HS2 'abysmal value for money' at 10 times the cost of high-speed rail in Europe.
HS2 is the most expensive high-speed project in existence, according to new analysis undertaken by The Telegraph.
The current £42.6bn budget makes it more than ten times the cost per kilometre of some global counterparts.
Bonkers. 
Next:
Third runway Heathrow:
£17.6bn
This is how much the airports commission said the new runway would cost, but Heathrow has been asked to reduce it. It is apparently working on revised plans. Gatwick estimates its new runway would cost £7.4bn, while the Airports Commission says it would cost £9.3bn.
A second runway at Gatwick will cost £9.3billion, much lower than the two proposals to expand Heathrow, which cost £13.5billion and £18.6billion respectively.
The Prime Minister's local council, Windsor and Maidenhead, said it will spend a lot of money to challenge the Heathrow decision. That brings the total for the four councils in the area – Hillingdon, Richmond and Wandsworth – to a whopping £200,000.
It is estimated that 'between 105 2025 and 2050, airlines would pay £40billion less in aeronautical charges than they would under the Heathrow options,'
£5.7 billion would have to be spent on works such as tunnelling the M25 motorway under the runway and widening the M4.
MPs will take a vote on the airport decision in a year or so.
Last but not least: 
The Sunderland plant has been a point of pride for May's Conservative Party since then-Prime Minister Margaret Thatcher lured Nissan to open it in 1986, beginning a recovery in British car making that had nearly collapsed in the 1970s.
Britain's big carmakers are nearly all foreign-owned and ship more than half of their exports to the other 27 countries in the European Union, making the industry's future one of the big question marks hanging over Britain's plan to quit the bloc.
Japanese carmaker Nissan (7201.T) will build two new models in Britain despite the vote to quit the EU, giving Prime Minister Theresa May her most important corporate endorsement since the Brexit referendum in June.
Obviously Nisan was offered reassurances that conditions would remain competitive, but was not given explicit promises to compensate for any tariffs that might be imposed once the country leaves the bloc.
Such a step could potentially open the floodgates to ultimatums from other companies.
No country can develop by itself behind closed doors.
Politicians and civil servants find it hard to reverse poor decisions, even when their initial rationale has slipped into distant memory.
She has ruled out an early election. But, where is the public outrage.
Brexit:
It Seems to me that England's difficulty is the European Union opportunity.
All comments welcome.