It is easy to be cynical about United Nations or for that matter about any World Organisation.
But the Secretary-General announced the first World Humanitarian Summit will be held in early 2016 in Istanbul, Turkey takes the biscuit.
The world is facing an unprecedented displacement crisis. Today, more than 60 million people are forcibly displaced as a result of violent conflicts and natural disasters.
Turkey has as we know just done a deal with the European Union for Visa to hold fleeing Refugees from War zones so they can't get into Europe.
As a leading humanitarian donor and key policy-setter, the European Union will play a major role at the upcoming World Humanitarian Summit in Istanbul.
The purpose of the summit is to set a forward-looking agenda for humanitarian action to collectively address future humanitarian challenges. The aim is to build a more inclusive and diverse humanitarian system committed to humanitarian principles.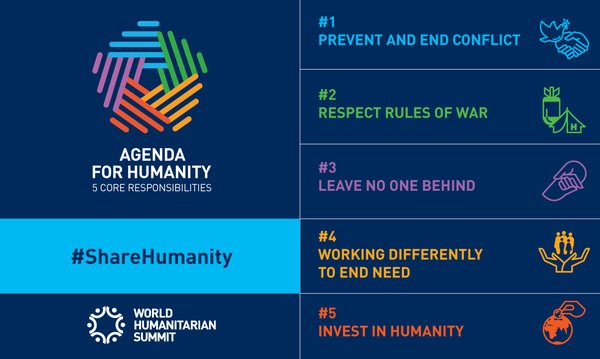 It's been almost 25 years since the last time the world came together to discuss humanitarian aid.
The European Commission provides humanitarian funding worldwide to over 200 partner organisations which implement relief actions on the ground. These include non-governmental organisations (NGOs), international organisations and United Nations agencies.
Reshaping aid at the World Humanitarian Summit to my mind seems sum what a joke and more of a NGOs nice gathering as those attending are only required to give commitments.
Nobody respects the rules of war, or is willing to sacrifice their young to prevent and end conflict.
Leaving no one behind, and working differently to end need, do indeed require investment in Humanity. As always there is no aspiration as to how to raise the billions required to battle these inequalities.
Like the Paris Summit on Climate Change this meeting is all about hot air, with promises that will be broken as soon as they are made.
This is not the United Nations fault but if anything worthwhile comes out of the first World Humanitarian Summit it should be the reform of itself under the last two heading on the Agenda.
Its time to understand that the interconnected world we all live in is primarily driven by self-interest and corrupt gains.
For example:
Mr Cameron is presently holding a conference on corruption. He has totally forgotten that England's wealth was obtained by an Empire that dealt in Slavery. Plundered the world and recently had some of its elected MP fiddling expenses. Not to mention bailing out its banks with billions of taxpayers funds and is currently trying to sell bank shares back to the taxpayer how already owns them. And is now in the process of destabilizing the EU for the sake of Profit not Sovereignty.
The only way we can solve more complex innovation challenges is by tapping the global community.
The belief that anything in life is just a problem waiting to be solved, usually with the right technology fix seems to be all the rage other than watching Money electing the next USA president we are develop inequalities to represent real world situations and use them to solve problems.
There is only one commitment needed to place a World Aid Commission on all Activities that exist to generate Profit for profit sake. ( See previous posts) The cost of the refugees world crises in 2016 is 25 billion.
Certain things catch your eye, but pursue only those that capture the heart.