Yesterday the UK government spent 10 hours debating whether to expand its Bombing on ISIS/Daesh into Syria.
During the debate there was hardly a mention of Arms Sales other than,
"Isis didn't come from nowhere, its weapons don't come from nowhere. We sell vast amounts of weapons to Saudi Arabia, Qatar, Bahrain, and a number of other places" Mr Corbett.
When it comes to how arms sales are perceive – whether they are British or US or whatever – it tends to be seen as a domestic economic issue.
The Middle East has now descended into proxy wars, sectarian conflicts and battles against terrorist networks. Countries in the region that have stockpiled American military hardware are now actually using them and wanting more.
Adding to the concern is the fact that the spending spree on arms comes against the background of a marked increase in military interventions by countries in the region since the Arab spring in 2011. Saudi Arabia has intervened in Bahrain (at the request of that kingdom's ruler during the so-called Pearl revolution), in Yemen in 2009 and again in Yemen this year.
$18bn expected to be spent on weapons this year.
War is good for business.
In March 2015, the Syrian civil war, rightly declared by the United Nations as the "worst humanitarian disaster since the Cold War," entered its fifth year.
Today, a number of factors make the conflict intractable.
The revolution began around issues of social inequality and the desire for freedom from fear and repression.
The Syrian civil war was never just about Syria. From the beginning, regional and international powers intervened in the conflict by supporting the different warring parties.
The rise of mainly foreign jihadist groups like the "Islamic State" (ISIS) have exacerbated the situation by both wrestling further decision-making power away from Syrian actors and by establishing itself as a radical "spoiling" force that would hinder any negotiated political agreement.
As more actors become involved, one constant factor remains: no single group or faction has the military strength to be able to simultaneously defeat all its adversaries and declare military victory.
Russia:
Russia has continued to supply the Syrian military with weapons and equipment throughout the conflict. Moscow insists it is only fulfilling pre-existing contracts and that it is not violating any international sanctions.
Despite Western pressure, Moscow insisted earlier this year that it would be honouring its previously agreed contract with Damascus for supplying sophisticated S-300 surface-to-air missile defense systems.
Given the unprecedented levels of weapon sales by the west (including the US, Canada and the UK) to the mainly Sunni Gulf states, Vladimir Putin's decision last week to allow the controversial delivery of S-300 anti-aircraft missiles to Iran – voluntarily blocked by Russia since 2010 – seems likely to accelerate the proliferation.
Russia has already reportedly sent advanced Yakhont anti-ship cruise missiles, SA-17 surface-to-air missiles, and short-range Pantsyr-S missile systems.
Iran:
Tehran is believed to have become a key supplier of rockets, anti-tank missiles, rocket-propelled grenades and mortars. Iran has stepped up its military support of Syrian government forces since the end of 2012.
However, Iranian officials deny breaking the UN sanctions imposed on its arms exports.
To evade the sanctions, Tehran has allegedly been transporting most of the weapons through Iraqi airspace on commercial planes and, more recently, overland through Iraq by lorry, something the Iraqi government denies.
Photographs and videos published online appear to provide evidence of recent Iranian arms shipments.
One purportedly shows an Iranian-made rocket, on which the date of manufacture is listed as 2012; another an ammunition crate containing mortar shells made by a Iranian defense ministry subsidiary in 2012.
Syria:
The Free Syrian Army (FSA), have said that the vast majority of its weaponry has been bought on the black market or seized from government facilities.
European Union:  May 2011, it imposed an arms embargo on Syria.
As the uprising entered its third year, several member states – led by the UK and France – lobbied to be able to supply arms to "moderate" forces in the opposition.
Despite deep rifts, foreign ministers agreed to let the embargo lapse in May 2013.
Though EU member states do not appear to have already sent arms directly to the rebels, another European country has been linked to a secret, large-scale airlift.
In January 2013, a British blogger began to notice weapons made in the former Yugoslavia were appearing in videos and images posted online by rebels fighting in southern Syria.
The recoilless guns, assault rifles, grenade launchers and shoulder-fired rockets appeared to be from an undeclared surplus from the 1990s Balkan wars stockpiled by Croatia.
Western officials told the New York Times that the weaponry had been sold to Saudi Arabia, and that multiple plane loads had left Croatia since December 2012, bound for Turkey and Jordan.
They were reportedly then given to several Western-aligned FSA groups. Croatia's foreign ministry and arms-export agency have denied any such shipments occurred.
US:
The US has repeatedly said it is reluctant to supply arms directly to rebel groups because it is concerned that weapons might end up in the possession of militant jihadist groups.
But on 14 June 2013 Washington said it would give the rebels "direct military aid"after concluding Syrian troops had used chemical weapons.
The CIA is reported to have played an important role behind the scenes since 2012, coordinating arms shipments to the rebels by US allies.
In June 2012, US officials said CIA officers were operating in Turkey, helping decide which groups would receive weapons.
The CIA is also reported to have been instrumental in setting up the alleged secret airlift of weapons from Croatia.
Turkey:
The Turkish government is a firm supporter of the rebels, but has not officially approved the sending of military aid.
However, reports suggest it has played a pivotal role in sharp acceleration of arms shipments to the rebels since late 2012.
The Turkish authorities had oversight over much of the airlift of weapons from Croatia, "down to affixing transponders to trucks ferrying the military goods through Turkey so it might monitor shipments as they move by land into Syria", according to the New York Times.
Jordan:
The Yugoslav-made weapons first seen in the hands of FSA units in southern Syria in early 2013 are believed to have been smuggled over the border with Jordan.
The Jordanian government has denied any role and said it was trying to prevent smuggling.
However, the New York Times found evidence to suggest Royal Jordanian Air Force transport planes and Jordanian commercial aircraft had been involved in the alleged airlift of arms from Croatia.
Iraq:
Syria's rebels, who are drawn mostly from the country's majority Sunni community, are said to have acquired weapons, ammunition and explosives from Sunni tribesmen and militants in neighbouring Iraq.
Arms are reportedly smuggled over the long, porous border and sold or given to the rebels.  Al-Qaeda in Iraq played an active role in founding the al-Nusra Front and provides it with money, expertise and fighters.
Lebanon:
As with Iraq, Lebanon's Sunni community is reported to have helped supply Syrian rebel fighters with small arms purchased on the black market or shipped from other countries in the region, including Libya.
The Lebanese authorities have seized unmarked shipments of ammunition, including rocket-propelled grenades.
The Syrian town of Qusair, which was recaptured by government forces in June 2013, was a transit point for weapons smuggled from north-eastern Lebanon.
Libya:
The North African state has been a key source of weapons for the rebels.
The UN Security Council's Group of Experts, which monitors the arms embargo imposed on Libya during the 2011 uprising, said in April 2013 that there had been illicit transfers of "heavy and light weapons, including man-portable air defence systems, small arms and related ammunition and explosives and mines".
"The significant size of some shipments", it said, "and the logistics involved suggest that representatives of the Libyan local authorities might have at least been aware of the transfers, if not actually directly involved."
Saudi Arabia:
Saudi Arabia is reported recently to have taken the lead in channelling financial and military support to the rebels.
Unlike Qatar, the Gulf kingdom is believed to be suspicious of the Islamist rebel groups, and has focused on supporting nationalist and secular factions of the FSA.
In late 2012, Riyadh is said to have financed the purchase of "thousands of rifles and hundreds of machine guns", rocket and grenade launchers and ammunition for the FSA from a Croatian-controlled stockpile of Yugoslav weapons.
These were reportedly flown – including by Royal Saudi Air Force C-130 transporters – to Jordan and Turkey and smuggled into Syria.
Qatar:
Until now, Qatar is widely believed to have been the main supplier of weapons to the rebels.
The Gulf emirate has denied providing any arms, although it has promised to support the opposition "with whatever it needs".
Most of the weapons are thought to have been given to hard-line Islamist rebel groups, particularly those aligned with the Muslim Brotherhood, which has acted as an intermediary.
This has reportedly drawn criticism from Western officials who say many of the groups are extremist.
Qatar Emiri Air Force transporter planes flew to Turkey with supplies for the Syrian rebels as early as January 2012, according to the New York Times
By autumn 2012, Qatari aircraft were landing at Esenboga airport, near Ankara, every two days.
Qatari officials insisted they were carrying non-lethal aid.
A complete and detailed picture of the arms race in the Middle East is impossible to construct.
But the availability of weapons in the region, from which British firms make billions of pounds a year, was a "contributory factor" in the ongoing conflict.
In 2013 the Independent reported that the UK made £12.bn from arms sales to repressive regimes around the world, most of which are in the Middle East and Africa.
Over the last decade, the Middle East has become a focal point of the world arms buildup. Each year, the regional arsenal grows, as the United States, the Soviet Union, France, Britain and others ship billions of dollars worth of weapons to the countries there.
Today, the region receives over half of all arms deliveries to the Third World, and more than a quarter of all world arms shipments.
In less than 20 years, these have grown tenfold in value — from $4.7 billion in 1962 to $46.7 billion in 1980, nearly nine times the world average.
When the states of the world are ranked by military spending per capita, six of the top seven are in the Middle East.
Qatar, Saudi Arabia, Israel, United Arab Emirates, Oman, Brunei, Kuwait, United States, Soviet Union and France.
By the end of the 1970s, the region was spending between 13 and 15 percent of its gross national product for the military, compared with 8.3 percent for the Warsaw Pact countries, the next highest.
If Israel's battle-ready reserves of some 300,000 are included, the Middle East now has almost twice the total military manpower of the US, and is approaching the 4.7 million total for the US and all NATO countries except Turkey.
During the same period, operational combat aircraft in the region grew by more than 50 percent, from 2,900 to 4,400, surpassing the size of the combined European NATO air forces.
The one Canadian deal alone – to supply Saudi Arabia with light armoured vehicles – will account for 20% of the military vehicles sold globally in years covered by the contract.
With conflicts raging in Syria, Iraq, Libya and Yemen, this is just the thin edge of the wedge. Saudi has booked enough arms imports in 24 months for them to be worth $10bn a year.
Arms sales to the top five purchasers in the region – Saudi Arabia, the United Arab Emirates, Algeria, Egypt and Iraq – surge this year to more than $18bn, up from $12bn last year.
Abu Dhabi staged the 13th edition of the International Defence Exhibition and Conference in 2015 it attracted 1,200 exhibiting companies and over 100'000 visitors.
According to the New York Times, defense industry officials have notified Congress that they are expecting additional requests from Arab states fighting Isis – Saudi Arabia, the UAE, Qatar, Bahrain, Jordan and Egypt – for thousands of new US-made weapons, including missiles and bombs, to rebuild depleted arms stockpiles.
Haider al-Abadi, disclosed that he was seeking arms worth billions of dollars from Washington – with payment deferred – for the battle against Daesh/Islamic State (Isis).
Ironically, among the key weapons suppliers in the arms race are permanent members of the UN security council who have been at the center of two unconventional arms control initiatives – disarming the Syrian government's stockpiles of chemical weapons and negotiating for a deal on Iran's nuclear programme.
They showed how Saudi Arabia had become the world's largest importer of weapons and fourth largest military spender and that other Middle East states were sharply increasing their arms purchases.
Last week France's foreign minister, Laurent Fabius, disclosed progress in talks to sell Rafale fighter jets to the UAE, one of the Middle East's biggest and most aggressive arms buyers.
CHINA could be on the verge of teaming up with Russia to unleash its military might in Syria and destroy Islamic State (ISIS).
For perspective:
During the first year of the war on terror, approximately 72 million rounds were expended in Iraq and another 21 million in Afghanistan — about 2,000 rounds per war fighter.
There are over 80 million gun owners in the U.S. If every single one went out and bought just 100 rounds – barely enough for one afternoon on the range – it would require 8 billion rounds of ammo.
If you look at the number of Americans killed since 9/11 by terrorism, it's less than 100. If you look at the number that have been killed by gun violence, it's in the tens of thousands.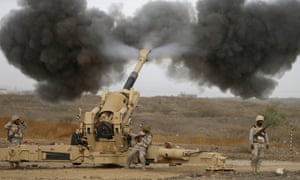 So how do we reverse the trend?
To do this,
Our approach needs to go well beyond the current focus on militarily downgrading and defeating ISIS and keeping the conflict from spreading to Syria's neighboring countries — a strategy that has arguably already failed.
Syria is now functions as a war economy, and fighting is seen as one of the few options available to generate income.
Within the country, there are over 7 million people who have been internally displaced and over 12 million people who need basic humanitarian aid to survive.
Current international funding and resources fall short of covering Syria's enormous humanitarian needs — including basic food assistance — and it must be increased.
What's more, the international community's priority needs to be to work on ensuring access for humanitarian aid workers, as they cannot reach parts of the Syrian population, whether due to the Syrian regime's obstruction or ISIS's extensive control.
With no clear military victory in sight, a political arrangement is still the best — albeit extremely complex — bet to see an end to the war.
Only a stronger, non-jihadist Syrian opposition can ultimately wrestle control and support away from radical groups like ISIS/Daesh and al-Nusra and sit at the negotiating table.
Something's got to give.
And when it does, these are some possible scenarios: 
If Assad is killed, the regime will likely fall and the rebels could claim victory. That would lead to an attempt at a transitional government, likely composed of members from the newly formed Syrian National Council, despite its immediate problems and the fact that jihadists have been the most organized rebel force up to this point.
A truly dangerous scenario would be if it went from the  proxy war which it now is to a full-blown world war with Iran-Syria-Russia on side against the West and its Gulf allies.
The destabilization of the entire region. Syria would then turn into a free-for-all.
President Bashar al-Assad is given a safe passage out of Syria to end the nation's bloodshed. This great compromise is not likely since Assad vowed he would never leave Syria alive. France is good at giving Mass killers a home.
With the amount of arms sales there is every likely hood that the Arab forces could become the Middle East's newest source of Anti- democratic, sectarian- based, instability, potentially intensifying the Sunni-Shia conflict.
While most of the warring parties are exhausted, they also believe they have no alternative to war, that the only possible conclusion is either victory or death.