(Five-minute read)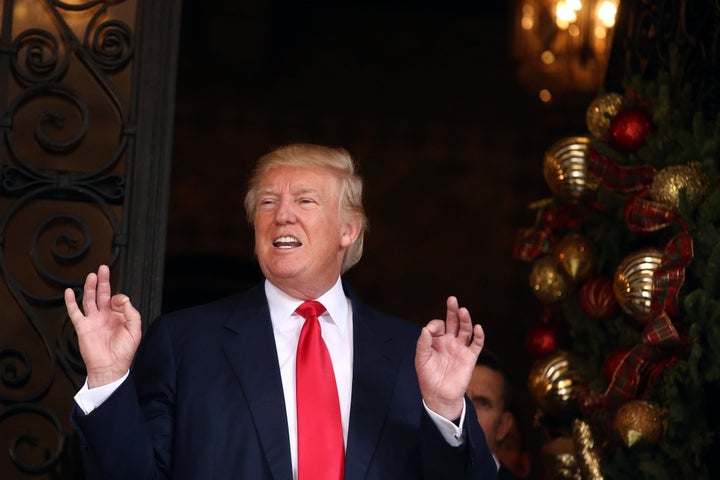 Donald John Trump, (born June 14, 1946, New York, New York, U.S. ), 45th president of the United States (2017– ).
A real-estate developer and businessman who owned, managed, or licensed his name to several hotels, casinos, golf courses, resorts, and residential properties in the New York City area and around the world.
Married three times.
Also lent his name to scores of retail ventures—including branded lines of clothing, cologne, food, and furniture—and to Trump University.
In 1968, during the Vietnam War, he secured a diagnosis of bone spurs, which qualified him for a medical exemption from the military draft (he had earlier received four draft deferments for education).
In 1973 his daddy and him, along with their company, were sued by the U.S. Department of Justice for allegedly violating the Fair Housing Act (1968) in the operation of 39 apartment buildings in New York City. The Trumps initially countersued the JusticeDepartment for $100 million, alleging harm to their reputations. The suit was settled two years later under an agreement that did not require the Trumps to admit guilt.
Became only the third president in U.S. history to be impeached.
He has in his first term has been a relentless drive for unfettered fossil energy development revealing the striking disconnect between President Donald Trump and essentially every authoritative institution on the threat of global warming.
Occasionally he feigns concern about climate. 
So what happened that he got elected in the first place.
A Bloke named Steve Bannon the owner of Cambridge Analytica "microtargeted" the Facebook/ Twitter Group, relentlessly on social media (by harvesting and weaponizing personal Facebook data without asking permission), and the results speak for themselves:
Cambridge Analytica harvested 30 MILLION certified voters through Facebook and targeted them with fake news tailored to their individually profiled fears and trigger points.
The Trump campaign fed them exactly what it wanted them to hear, whether it was true or not.
People from across the political spectrum happily shared his memes in their own personal outrage-amplifying social media echo chambers. For Free.
He was elected by those that rarely look beyond the messaging they see on TV.
Incapable of coherent speech he uses Twitter as his bitch.
But in the early hours of the greatest threats to the world especially American political history, here are a few thoughts.
Trump was not elected by the people but by Social Media. He was never a legitimate political leader.
Though Trump has legal legitimacy, he totally lacks political legitimacy.
He did not win the popular vote.
It is this fear of being illegitimate is the reason why he tries to delegitimize America's intelligence community.
What does that say about the state of democracy in America?
Articles and dissertations that try to answer the question will occupy us for years.
For now, we can only hope that HIS HANDLING OF COVID-19 will be his DOWNFALL.
And quickly, very quickly. As with anything said by Trump, it remains unclear if he was lying, under-informed, or uninterested in becoming so. (Or all three.)
And as in so many other instances, Trump's lies and/or carelessness have had disastrous effects.
The first time Trump tweeted about the virus came on 24 January. "It will all work out well," he reassured Americans. He followed up again later with Domestos or is it Parazone kills all known Klingons so why not have a swig.
Trump's intentions, and his administration's deleterious impact on global climate progress, will be evident to voters in 2020 in a way that many failed to grasp four years earlier. The only question is whether those who care about the planet's future can unite as a political force in a way that eluded them in 2016.
Almost every time he opens his mouth he tried to divert responsibility as the full horror of the Pandemic and the economic implications dawned on Trump the usual playbook of denying and distracting will prove futile against a nimble germ without an ego.
There's a little more than six months left before the election.
LET'S HOPE!
NOW THAT HE HAS STOPPED FUNDING THE WORLD HEALTH ORGANISATION AND OPTED OUT OF GLOBAL CORPORATION TO DEVELOPE A VACCINE THAT SUCH A VACCINE IS NOT DISCOVERED IN THE USA BEFORE November 3, 2020.
OTHERWISE, WE WILL HAVE ANOTHER TERM OF DONAL DUMP. 
All comments appreciated. All like clicks and abuse chucked in the bin