( A eighth minute read)
We all know that the Union is in need of reform, but what exactly are we talking about.
Nobody would seriously argue that the EU doesn't need to evolve, to do so it must fundamental reform.
It has not delivered the prosperity and growth it promised; the euro has turned out to be part of the problem rather than the solution; the EU's share of world GDP is set to fall sharply. Moreover, no one is clear what the EU is for, or how ever closer union can be matched with expanding borders and huge disparities of income and culture.
Here are a few reforms that are blatantly obvious and need  implementation to save millions of euros.  
The First Reform:
According to a report from the EU's own internal Audit Service (IAS) an estimated £4.5 billion of the EU's annual budget is wasted each year. The administrative budget of the IAS totals €18.77 m in 2016 and €19.22 m in 2017.
Although the Commission remains responsible for the implementation of the EU budget, the actual management and control of EU funds and programmes is delegated to Member State authorities, which select beneficiaries and distribute funds.
Cohesion policy accounts for 37 % of spending from the EU budget and is to be some 350 billion euro for each of the periods 2007-2013 and 2014-2020.
It is the Member States' responsibility to detect, correct and prevent errors in the first instance.
Better regulation is a pressing problem.
Next:
It is time that the blatant absurdity and farce of the EU travelling circus, that requires the moving nearly four thousand trunks of documents between Luxembourg and Strasbourg ever month – stops.
It is perhaps the most outlandish of the European Union's excesses; a £130 million travelling circus that once a month sees the European Parliament decamp from Belgium to France.
The problem is simple:
The French government, which has a power of veto, will not budge.
The French insist on maintaining Strasbourg's role because of the substantial amount of money the travelling circus brings to the region. Its status is set in stone under a European treaty signed in 1992,  which can only be revoked should all member states agree it. 
In all, the EU admits that the monthly Strasbourg sitting, which lasts just four days, costs an additional £93 million a year.
A recent study by the European Parliament shows that €103 million (£85 million) could be saved each year if all European Parliament operations were transferred from Strasbourg to Brussels.
It is beyond comprehension that this state of affairs is tolerated.
If Emmanuel Macron France's new youngest ever president, who says the country had chosen "hope" and promising to relaunch the flagging European Union doing away with this gross misuse of EU funds would show he is serious.
Next: 
MEP's > "gravy train" salaries and perks.
MEP perks receive free haircuts and 52 gallons of petrol a month.
Maltese MPs get 240 litres of petrol a month.
Two Conservative UK  MEPs have each pocketed over £1 million in taxpayer salary and expenses payments in just five years.  Both men receive a salary of £76,292 a year, plus £2,670 in pension contributions.
Over five years, on top of this figure, Mr Ashworth claimed: £181,705 for subsistence; £164,627 in travel expenses; £222,560 in UK office allowances and £116,000 for his wife's salary between 2010 and 2014, when the practice was banned.
Mr Karim claimed the same salary and pension contribution package as well as: £159,858 in subsistence allowance; £189,420 in travel expenses and £289,038 in UK office costs.
Both men also have offices provided in Brussels. Both men took home over £1 million over the five-year period, over £200,000 a year.
Nigel Farage claimed over £15,000 in expenses to pay for his bodyguards. The EU has been billed for their services, which include arranging food and drink. One bill for just five events came to almost £60,000, covered by expenses paid to Mr Farage's Europe of Freedom and Direct Democracy group, which receives £2.5million a year in EU funding. 
French MEPs earn 740% more than average French citizen Lavish, expenses and allowances – entitlements that are worth over £415,000 a year each. 
As well as staff allowances, MEPs are able to earn up to £91,000 a year in "daily subsistence" and "general expenditure" expenses without having to provide any receipts or proof of expenditure. MEPs still vote on their own salaries and perks.
The "subsistence allowance" or "per diem" of £258 is paid in cash without any proof of expenditure, when MEPs sign an attendance register in Brussels or the Strasbourg seat of the parliament.
The annual cost of a MEP sitting in the EU assembly is £1.79 million each a year. The European Parliament, with 766 MEPs, cost £1.3 billion in 2012.
Here is the breakdown of an MEP salary:
[The standard monthly payment for all MEPs is 7,957 euros (£6,537). MEPs also get a flat-rate monthly allowance of 4,299 euros to cover office expenses, such as office rent, phone bills and computer equipment.
In addition, MEPs can claim for travel related to their official duties in Brussels and Strasbourg. In the past they could claim for an expensive flexible economy class flight even if they flew low-fare. But under the new rules they have to submit their ticket (which can be business class on air, or first class on rail) and will be reimbursed for what they paid.
A separate annual travel allowance – 4,243 euros maximum – covers official trips to other destinations. And they can claim for up to 24 return journeys in their home country.
MEPs also get a daily subsistence allowance – now 304 euros – for attendance at parliamentary sessions. It is intended to cover things like hotel bills and meals.
And they are entitled to reimbursement of two-thirds of their medical expenses.]
Then there are the 28 EU Commissioners, all of them on a basic salary of
€20 666 per month.
Jean-Claude Juncker, 61, President of the European Commission  Salary: £245,629 plus a residential allowance of £36,844 and a monthly expense allowance of £1,135. Pension of £52,500 for life from age 65.
The salaries and allowances of the MEPs of the 27 EU states now total £137 million.
The figure is almost ten times higher than the average EU wage of £18,617 a year.
But this does not include the cost of the £217,000 office allowance available to each MEP.
The receipt-free allowances system must stop. 
Next reform:  Is the Euro.
Only by changing the eurozone's rules and institutions can the euro be made to work.
To achieve the more radical – but necessary – reforms for the Euro, a new treaty will be required.
A major priority for this new treaty would be to create a single fiscal authority for the euro area and to change the ECB's mandate, so that it could become a full lender of last resort in extreme circumstances.
Euro area citizens need to be given a real choice between continued fragmentation (which leaves the euro exposed to structural weaknesses and recurrent crises), and greater integration (which pools more sovereignty at the same time as it strengthens the governance of EMU).
Abandoning the convergence criteria, which require deficits to be less than 3% of GDP.
Change the mandate of the European Central Bank, which focuses only on inflation, unlike the US Federal Reserve, which takes into account employment, growth, and stability as well.
Lastly, the high rates of unemployment in many euro-area countries are a source of concern. Reforms to harmonize employment protection legislation and integrate outsiders in the labour market should be implemented.
The EU employs more than 55,000 staff from its 28 member states. The majority work for the European Commission which employs about 33,000 officials, temporary staff, contract staff, and special advisers.
Last Reform: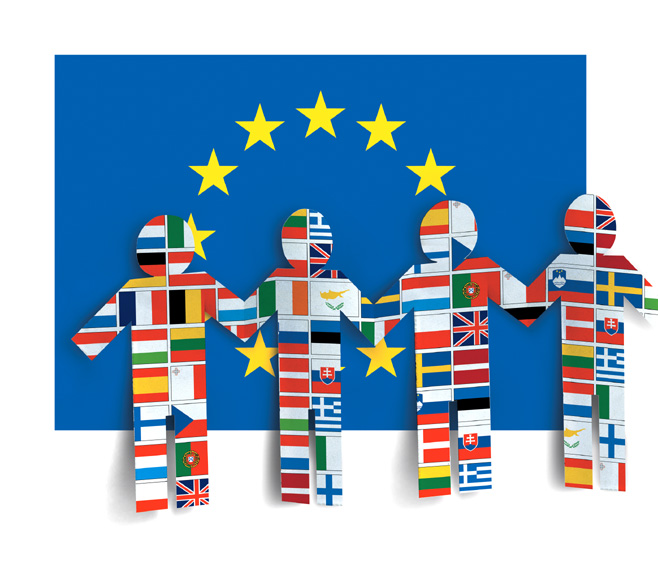 It is no good just taking the standard nation-based model of representative democracy and applying it to the unique contours of European governance
'Democracy' explicitly recognises that the EU lacks a coherent, unified 'people', and should therefore encourage the participation of separate 'peoples' within the European structure.
If the EU is truly a democracy then the best way of closing the gap between citizens and institutions is to empower the demoi. Finding new ways for the national public to discuss, engage with and interact with the EU is the best way of enhancing their role. To do so, the European Parliament should be made more representative, but by increasing the role of citizens and national parliamentarians in the EU structures the EU can be made more open to bottom-up influence.
Multiple levels of engagement should be created so as to give citizens the maximum capability to engage with the EU's structures. Such a structure would not be perfect. No democratic structure is. But it remains the best way of creating a more democratic European Union. Make European structures more open to national influence; and give citizens a more direct involvement in EU policymaking.
All comments appreciated. All like clicks chucked in the bin.
https://youtu.be/PZz3dXCG3Oo?list=PLO1bi4VeyTW7iLDXBKYxh_rG_ovxGkihz