( A TWO MINUTE READ)
Why a snap election ?
THEY SAY A PICTURE IS WORTH A THOUSAND WORDS.
HERE IS ANOTHER. 
FOR ALL INTENTIONAL PURPOSES IT IS ACADEMIC HOW IS IN POWER.
STRONG MANDATE OR NOT.
THERE IS NO RESETTING THE OUT BUTTON.
Britain has already triggered Article 50 – the formal starting gun on Brexit, and withdrawal from the EU is all but a certainty at this point.
EU27 leaders meet on April 29 to agree on the negotiating guidelines. After that, there is a window, likely to last until June or July, during which the European Commission will draw up detailed negotiating plans for final approval by EU leaders. Until that time, nothing substantive can be agreed between the EU and the U.K. — and May has decided to squeeze a general election into this window.
SHE IS IN FACT PUTTING THE COUNTRY TO UNNECESSARY EXTRAVAGANT EXPENSE (UNLESS THE EU TOLD HER SHE WAS ANOINTED PRIME MINISTER AND WAS IN NEED OF A MANDATE TO NEGOTIATE).
BRITAIN HAS CHANGED PRIME MINISTER 24 TIMES IN THE LAST CENTURY, HALF OF THOSE WITHOUT A GENERAL ELECTION.
AFTER THE RESULT OF THE FIRST ROUND OF ELECTIONS IN FRANCE.
YOU DON'T NEED TO BE A POLITICAL ANALYST TO SEE WHAT IS GOING TO HAPPEN.
The negotiations with Europe over Britain's exit from the EU are likely to be fraught negotiations.
The June election date means a new Parliament will have been formed just in time for the likely start date for the Brexit negotiations.
May's problem was simple: She had a majority in parliament to trigger Article 50 but for almost nothing else — the final Brexit package included.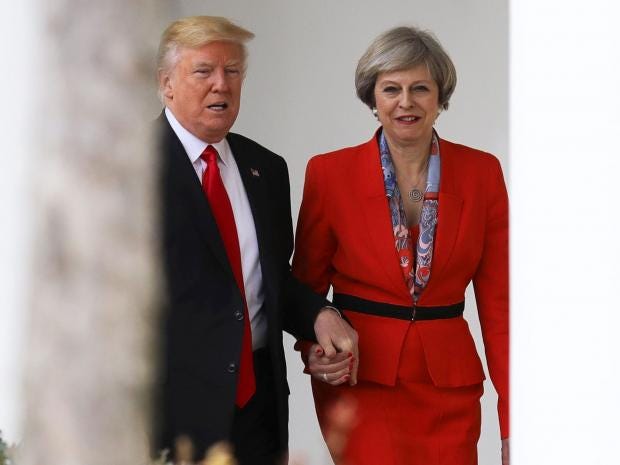 How the election influences the direction of the Brexit talks depends on the outcome.
There is already a democratic mandate for Brexit. This election could become a democratic mandate for her specific kind of Brexit — out of the single market, but with favorable access via a hasty free-trade agreement.
If the election delivers a small Conservative majority, as already exists, little will change. If the election wipes out the Tory majority — which would throw all assumptions about the U.K.'s Brexit strategy into the air.
The risk is that she ends up muddying the waters with an inconclusive result.
WHAT IS On the ballot paper is Britain's future outside the European Union.
It might seem foolish to call anything a certainty now in politics but If Jeremy Corbyn was to agree PRIOR TO THE ELECTION to STEP DOWN ON WINNING THE ELECTION ( replacing himself with a more popular, centrist candidate he would win hands down)  Why not have another unelected prime minister. 
Parliament took you into Europe, and only parliament can take you out.
Both major parties seem wedded to the claim that "the British people have decided to leave", the British people have done no such thing. At the referendum last June, 37% of those eligible to vote supported Brexit, 35% wanted to remain and 28% did not vote at all – many, in my view, misled by opinion polls indicating a pro-Europe result. Since 63% of the British public did not vote to leave, there would seem plenty for parliament to debate: whether a non-binding referendum should be allowed to produce a further fall in the currency, for example, or diminish human rights.
WAKE UP:  Britain great again, or turn it into a bargain-basement offshore tax haven with sunken sterling.
wHICH ONE IS IT TO BE:  MADAME MAY OR MRS LE PEN.  NEITHER WOULD BE MY STRONG ADVICE.  What is certain the most tumultuous period in post-war British history just got more tumultuous.