(Continuation)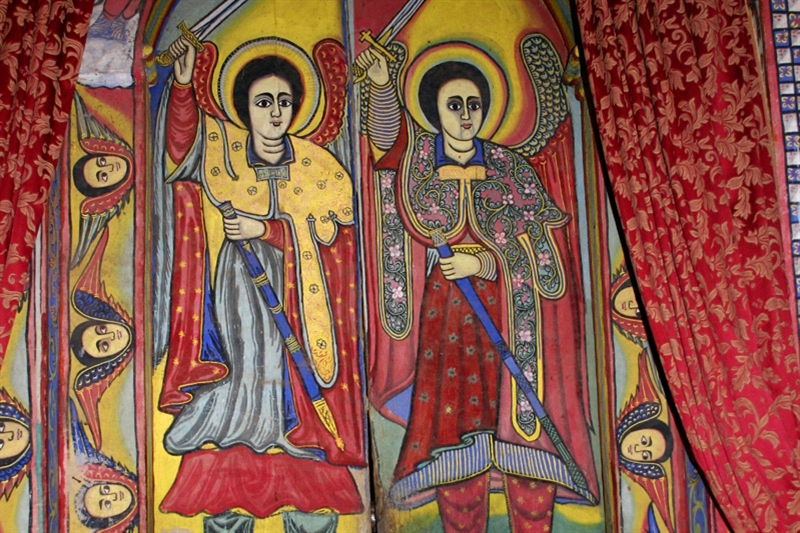 Arriving in Mexico Square my surrounds confirm that I am indeed in Addis Abba and not Mexico City. On the opposite side of the square, a little distance up a wide street with a name (Ras Abebe Aregay) that declares Ras Abebe is Gay is the Bank. A large modern building that proclaims a monitory wealth away beyond the country it stands in. A line of beggars leading to its entrance reinforces the image.
Depending on your point of view banks no matter where you come across them in the world are either a God Send or legalised gangsters. This one is to prove to be the Godfather of Godfathers. The safest way to take money travelling is traveller cheques but when one is on a voyage like this you need hard cash. The complications of having money sent are a hassle in most African countries. Ethiopian proves to be the worst. I enquire as to the possibilities of arranging a transfer to be collected in a few weeks or so. The difficulty is in getting the transfer paid out in the currency that it arrives in such as US dollars. I am assured that there will be no trouble and given all the bank's details to forward to my bankers.
Next, I visit the post office to fax and post confirmation of my instructions for the transfer. This whole operation takes the best part of an hour and a half of great confusion.   Packed to the doors the Post office is not for the gullible. A magnet for causal pickpockets, rip-off artists, helpful first-rate no gooders I am glad that my loot is buttoned down in the breast pocket of my shirt. (TOP TIP: In high-risk pickpocket areas such as crowded bus stations, government establishments, minibus ranks and the like a good tactic is to stuff some think worthless in your trousers back pocket that look like a wallet from the outside. I have nothing against money belts except they are a dead give away if required to open in any public palace. Also standing looking like you are lost is to be avoided. Always look like and act like you know where you are going even if you don't have a clue.) On leaving the Post office to shake off any hopeful I walk into the nearest bar for a beer.
Returning to my hotel I pass by the football stadium > Can't resist having a look. Five Birr later I am sitting in the stands. The round ball has a way of crossing cultural barriers and I am soon supporting the greens. Perhaps an indication that the one gift the Empire gave to the world football brings both the best and the worst out in one's persona. The greens are trashed, as were the Italians in their attempts to colonise Ethiopia at the battle of Adwa in northern Ethiopia in 1896. Apparently, the Italians with crap maps of the area attempted a night march for which they paid dearly being wiped out by an army of 100,000 after which the Italians recognized Ethiopia as an independent nation. In return for the Ethiopians recognizes Eritrea as an Italian Colony sowing the seed for the day's present problems.
Landing back in Jinka the sun had not mover much since take off. But it is definitely not shining out of Fannie's orifice. She has been bitten by a scorpion. Painful but not life threating. I can picture the drama. She was rushed off to the small clique refusing any needle unless she saw it being unwrapped in front of her. She received an injection of Emetine. (TOP TIP: There is no need to state the importance of bringing your own needles and to know how to use one.) Maybe the scorpion is the last defence for the people's of the Omo region.
Throughout our journey, we have become aware that millions live in villages to which no roads lead living on cassava yams and bananas. Theirs is a life of subsistence. The further one ventures of the beaten tracks unseen by most tourists as they stick to the main roads the poorer Africa becomes. It is evident and indeed sad that the scorpion will not be able to preserve this part of Africa. The AK47s, the runway, rings the bell of extinction of a way of life, uniqueness, an honour, customs and traditions that give a purpose to life.
Fannie's red welt puts pay to visiting the lower Omo delta region. Trying my hand at cow hurling with the Hamars or competing in a spot of donga stick jostling with the Surma or a session of face painting with a new clay hair bun style compliments of the Karo will have to wait.
As it turned out the company that we were going to do the river delta with is having its own problems due to some diabetic twit that had to be airlifted out. Rumour has it that he had not made known his problem and he was caught short of insulin when the company missing one of its landing spots resulting in the trip being longer than usual. The company was being threatened with withdrawal of its tour licence. Also, it is impossible to get my hands on any decent maps of the area in Jinka. The thoughts of another rolling coaster few days lost on very rough roads against the attractions of Addis had no chance.
First, we have to escape Jinka, which is easier said than done with a spring that refused to be replaced even on the extremities of the high jack. Some creative thinking and extra muscle are required. Eventually, the Peace Corps on seeing my frantic hand language recognizes one of my hand displays as an attempt to demonstrate the ground to air signals for help. They offer their compound. It has a strong-beamed roof. (Top TIP: There is four basic ground to air hand signals. Require Assistance, Require Medical Assistance, NO or Negative, Yes or affirmative are a good thing to learn.)  
The idea is to jack Williwaw up.   Attach my towing band around the beam and with a few strong hands heave her up the last fraction to allow the spring slip into its housing. The downside is the possibility of losing a figure or two. Success depends on no slipping the spring in position before she hit the ground. Bang she hits the ground re-sprung with all fingers intact.
After seeing the terrain from the air I am surprised to find that our descent down to Arba Minch is far less daunting than I had expected. Arba Minch is on the first of a string Rift Valley Lake's that run all the way to Addis. With the road conditions vastly improved we pass mule riders shrouded in wraparound veils herding goats up to their morning pastures. All the men we pass carry a stick across their neck over which their two arms are draped. This posture of walking is to be one of our lasting memories of Ethiopia.   Arriving well before the setting sun Lake Chamo is dressed in its early evening silver gown. Looking down on the lake we are reminded that we are still deeply in the heart of the foothills.
Arriving in the small town which is the capital of the Gamo-Gofa Providence it is not much to write home about but its setting is breathtaking. Position high in the fortifications of the Rift Valley walls it commands wonderful views of not just the lake but also the surrounding mountains.   In sympathy to Fanny's throbbing finger, we stay the night at the Bekele Mola Hotel perched on the cliff overlooking the lake. In the morning we learn that Arba Minch is, in fact, two towns > Separated by four kilometres. Of course, there are no road signs so we had no way of knowing. Anyway, it turns out we had spent the night in Shecha which could have being Sikela if we had gone the extra mile.
Today progress is smooth and fast.   We skirt around Lake Abaya and then on to Lake Shala, Lake Abiyata, Lake Awash, Lake Langano, passing through Shashemene to Lake Ziway and Lake Mujo all of which must have been discovered by someone obviously not white as we have not heard of them before.
After Shashemene our surroundings changed from highlands to undulating hills with an ever-arable patch of land under some crop or other. We are now in the quilt country I had seen from the air. Arriving at Nazret Addis Ababa at 2400m is in our sights. An excellent road brings us into the city proper within the hour. We contact our Sicilian Paul from the Lido Hotel. Inviting us over to stay he seems rather surprised that we have made it.
Paul who is living not far from the centre of the city takes some finding. Eventually, with a large helping of perseverance, we arrive down a severely unnamed potted road. Heavy shrubbery and a large door hide his house from view. His welcome is just as exuberant as when we first crossed paths back in Dar es Salaam. We stayed two days during which an extensive tour of Ethiopia is plotted with an invitation to join him at Dire Dawa in two weeks time.
Having arrived from the south-western direction the plan is for us to do the north-east wherein the 1985 famine over a million died and then down the north-west leaving the south-eastern section untouched. According to our maestro, Paul the places to start is right here Addis the Marcato, Addis largest market and commercial hub. "This is where I buy my chat," says Paul. What's that? "The Jesuits had their opium in Macao." "Ad Majorem Dei Glorima." (Latin motto: To the greater glory of God.) "Ethiopia has Chat to the greater glory of hunger."
"It's not a European bird but a green leaf that takes the longing away." The rest of the circular itinerary sound likes a journey of biblical magnitude in the midst of biblical names. Debre-Mark'ok, Bahir Dir, Lake Tana, Blue Nile, Gonder, Simien Mountains, Axsum, Queen of Sheba, The Ark of the Covenant, Adwa, Adigrat, Eritrea Border, Rock- hewn churches, Mek'elé, Lalibela, Desé, Awash National Park, Hārer.
Over lunch, the map is ignored we getting a compressed history lesson "
You know that Ethiopia was settled by Ethiopic the great-grandson of Noah. It was his son that establishes Axum and a dynasty of rulers that lasted nearly a hundred years." "Queen Sheba was the last of these rulers." "While she was on a visit to Jerusalem she got bonked by Solomon and converted to Judaism. " Producing a man-child called Ibn-al-Malik (Son of the King)" "Ibn-al Malik is where Manelik comes from."
The story has it that this teenager went looking for his dad Solomon who was over the moon when they met up back in Jerusalem offering him the keys to his roller. For his return journey, Solomon thought Ibn needed some company so he ordered that the tribes of Israel send a crowd to accompany him."
"The whole mob one of which happened to be Azariah the son of the high priest of the temple of Jerusalem nicked the Ark of the Covenant for the journey back." Solomon, as you can imagine, was pissed off when he found that the Ark was no longer in his safe." "He gave chase, till all of them had a dream that it was all God doing." So the ark ended up locked up in the Church of St. Mary Zion in Axum to this day." "That why you should visit Axum."
"Sheba, self-effacing was so highly impressed she gave up her short brakes with five hundred camels to Jerusalem." "The Solomonic Dynasty ended in 1974 when Haile Selasie the 237th emperor died."   "If you don't, believe me, it's all in the famous Ge'ez bible called Kebre Negest."   "However these days you can believe all that you read". This remark brings the history lesson to a sudden end accompanied with a dismissal to the Marcato.
Driving in Addis Abba as with any major African city requires the following nine skills.
The ability to spot the lurking Rayban clad cop astride his latest aid donated BMW bike that can't resist the chance to make a few bob on the quiet.
Roundabouts meant only for the bravest of the brave.
The crossing techniques of totally ignored traffic lights.
The avoidance of car proof Pedestrians.
The courage to park whenever, wherever.
The unadulterated use of the horn.
The realisation that indicators are just that.
The ability to breathe in pure fumes, and to avoid smoke windowed Mercedes with fluttering pendants that have total immunity when it comes to killing.
Last but not least, local knowledge of potholes and open drains that need flyovers. Not forgetting the dogs, goats, chickens, horses, donkeys and the odd babe dressed to the nines.
It's a funny thing about Land Rovers especially ones dressed overall for off-road duties. They receive unwanted attention at frontiers; attract kids like honey, and cops, and army personnel like homing beacons. They receive flashing of headlights from other land rovers to say you're one of us. They look the part no matter how matter how much Co² they add to the ozone hole. They are one of the few machines that have a magazine all of its own.
We arrive in one piece.   Leaving Williwaw unattended is a no, no. (Top TIP: If you are going to spend a few hours wandering in a large market one of the tricks is to park your vehicle in a highly visible spot. Buy something from the nearest stall and offer to pay extra if they will keep an eye on your vehicle. )    
Equal to Kumasi's central market in Ghana this is one of the biggest markets in Africa.   It alone could fill the fourteen pages that our bible allocates to the whole country of Ethiopia.   A vast area filled with small shops, kiosks and stalls. It challenges one with strong pungent smells of urine, excreta, mix with rotten eatables, incense, spices, coffee, cooking, cheap perfume, body aromas, strange-sounding language, colour, light and darkness on every turn and in every alleyway. It is the pulse of Addis a con man warren, a pickpocket's labyrinth, a tourist Aladdin cave, a bag – snatching paradise, a portrait photographer's dream.
We spend hours wandering in and out of curios shops each one with the Ark of the Covenant for sale, custom-made gold, silver, jade, jewellery, crosses, staff, chalices, wonderful ornate umbrellas, jars, goblets, swords, daggers, rings, necklaces, artefacts from the treasure-house of the Queen, Kings, Emperors too many to name. All of this is just in the outer skin of the market.
On deeper penetration traders of cloth, leather, basket makers, weavers, ironsmiths, potters, carpenters, mingle with butchers, bakers, tailors, and craftsmen whose skills have been handed down from generation to generation work.
Everything operates in a swirling cauldron environment of motion, sound, colour, and chat-chewing, cud spit struggle to make a birr or two.
(Top TIP: The Marcato. Don't miss it. Don't be tempted by any of the guides. They are an unwanted nuisance and soon get bored if you don't purchase anything. With common sense you will enjoy it all on your tod.)
We avoid the temptation to sink our teeth into one of the hundreds of Injera floating on the heads of the seller in large colourful baskets we finish our visit with a Buna espresso-style Ethiopia's rich sweet addictive coffee.
Running Addis rush hour gauntlet we arrive back in time to meet Paul's cook, gardener, and night watchman. He shows no interest whatever in whether we went or not to the Marcato. "In the morning we are going to a hot spa on the Awash river." Say's Paul before he takes early night refuge in his bedroom.
Crammed into his car we leave Addis at a rate of knots to match Paul's feverish personality changes. We zoom out past the airport on the Nazret road. He is in better form. "This is the road you will take to visit me Dira Dawa." Our target is Sodore a hot spring resort that attracts Addis middle-class weekenders for a dip in a large swimming pool. Fifty kilometres from Addis we pass through Debre Zeyit a sprawling unappetizing town that hugs the road surrounded by small creator volcanic lakes. We stop for a coffee and morning pastry. Bizarrely Paul throws a tantrum when the bill arrives> All of US1$.   It's our first introduction to Ethiopia Faranji prices.
Although we had heard the word before we are unaware that it is common practice in Ethiopia to charge one price for the locals and another for tourists.
A couple of Ishee (OK, Ok) and the price dropped to 25 cents. Back in the car, Paul rattles on about the Faranji frenzy that can lead to stone throwing. "It's a curse of tourism, in Ethiopia." "Whites attract every beggar, herds of You, You yelling kids," and of course Faranji rip off. "It's the one place in the world where Fuck Off doesn't work." "So who do you get rid of a bunch of give me money kids." I don't know try Habbishat it will at least get you a few laughs."
Without seeing one donkey, carpenter, or Mary we pass through Nazret. "We're now entering Rastafarian land," Says Paul. I have my suspicions that this is the main reason for our trip to Sodore. Paul is a fond lover of Ganga the wisdom holy weed. He rolls a splif before he has a shit in the morning."
"Paul warms to his subject. "Rastafarians take their name for Ras Tafari Makonnen which was Emperor Haile Selassie I (Power of the Trinity) pre-coronation title, or – King of kings – Elect of God – Conquering Lion of the tribe of Judah to give him his full titles." You know that they believe that the Bible was changed by Babylon. (Babylon being the white mans political machine.) " "They have their own bible the black man's bible call Holy Piby.   "They also consider one of the Ethiopian holy books the Kebra Negast to be a good read."   "They believe that they are reincarnated from the lost tribe of Israel and that their redemption is to found on earth in Africa here in Ethiopia where they will re-establishment of apartheid this time the right way around.
I am thinking what next. In the space of week we gone from weird wooden pious statues standing in fields with phallic penis stuck to their foreheads to half-naked woman with lips you could put a pint on, to scorpion bits, to the Queen of Sheba, to the ark of the covenant, to a dead Emperors with a following of dreadlocks that believe they can drive their furry filled cars to heaven in Africa.
Judging from what pictures I have seen of little Haile I am sure before his death in 1975 he had no divine insights as to why he was adopted by Rastaman as their God. His death must have caused quite a crisis for many a Rastafarians. The weed of wisdom I am sure by now has explained his departure in many a puff over a Bob Marley number.
Paul rattles on. "They are vegetarians." "The lion is their main symbol." "Their dreadlocks mark their lion attitude." "Weed smoking is justified in the bible." We arrive.
A large swimming pool designed back in 50th looks far from clean. Not to worry about a badly potholed dirt track we drive past up along a small river for a few kilometres. From all the car yak I have great expectations that we are either going to be greeted by Moses or John the Baptist.   Instead, Paul brother and wife with two saplings greet us. Roy his brother is older and heavier with a modern Ethiopian wife who is small with striking jade eyes that don't miss a trick.
For the next two hours, we part take of the water > Hot crystal clear sulphurous water to cool off in the many cascading pools with beers on the bank.
The journey back to Addis and our pending departure in the morning is in more in the lap of the gods than conscientious driving.
"Enjoy, enjoy one of the most mind-boggling countries in the world." "If you have problems don't call me," Says Paul.
We leave on our planned circuit of Ethiopia three thousands years of historical shaping history. The first port of call is Debra Markos. Climbing out of eucalyptus-clad hills we are trapped behind five trucks that hug the road centre. Everything in Ethiopia is moved by bleaching elderly trucks. The thought of pulling over to allow any passing is obviously an imbued ecstasy not yet learned. On the contrary, drivers take pride in using up as much as the road as possible. Clapped out trucks peppered the roadsides in living proof of failing brakes or wheels deciding to escape their laborious labour.
Three hours anon we reach the end of the winding road emerging onto high moorlands it becoming obvious that we are going to be well short of our intended target Debra Markos. Pas grave.
(TO BE CONTINUED)
DONATIONS NEWS:  It appears all readers so far are skint, but just in case there is one with some spare cash for a budding unpublished author.
Robert Dillon:  Account no 62259189. Ulster Bank 33 College Green Dublin 2.
Sorting code: 98-50-10.