(Twenty seven-minute read)
WHAT ARE WE DOING TO IT?
THE PROBLEM IS THAT WE DON'T CARE.
CONCERNED OR NOT. IT'S TOO LATE.
AND NOW HAVE TO SOLVE OUR PROBLEMS WITH STONE AGE RULES.
WE CAN CALCULATE WHEN WE NEED TO BE DONE AND IT'S FRIGHTING WHATEVER WAY YOU LOOK AT IT.
IT'S ONLY US THAT CAN DESTROY THE CLIMATE OR CHANGE HUMAN BEHAVIOUR ENOUGH TO STOP IT.
We must now face the inevitable that long before Voyager Two sents back its last message it is most likely that there will be on here to hear it.
It's happening everywhere, you can see it and you can feel it but for the most part, it is the invisible that will change first. Environmental change, Human factors, Economic effects and Political effects.
But, wait! There are people who are convinced that such a thing will never happen. Our ingenuity, they say, it is more than able to take care of that situation.
Without a habitable planet, we're not destroying the world, we're destroying ourselves.
There are six factors that make earth the habitable planet that it is now: water, temperature, atmosphere, energy, biogenic compounds and distance from the sun.
THERE IS NO POINT talking about it, writing, protesting, crying, the price has to paid now not in the distant future.
The change that is to come when we are the past will not suffice.
THERE IS NO POINT WAITING TO SEE WHAT WILL HAPPEN.
THERE IS NO POINT IN PARIS CLIMATE AGREEMENTS WHICH CANNOT BE INFORCED OR PAID FOR.
THERE IS NO POINT DECLARING AN EMERGENCY ON DEAF USA /CHINA/ RUSSIAN/ INDIA, EARS.
THERE IS NO POINT ASKING THE CAPITALIST SYSTEM TO CHANGE OR PAY FOR THE DAMAGE DONE.
These ecosystem services are taken for granted and their willful obliteration proceeds at an ever-accelerating pace, despite ample evidence that we are committing suicide.
THERE IS NO POINT RELYING ON TECHNOLOGY TO RECTIFY THE PROBLEMS.
THERE IS NO POINT IN PRAYING TO WHATEVER GOD OR GODS YOU BELIEVE IN.
THERE IS NO POINT RECYCLING PLASTIC BY BURNING FOSSIL FUELS.
We now pretend that returning to plant carbon that is produced in annual cycles will somehow replace the geological carbon sources produced over eons.
THERE IS NO POINT planting trees, virtue will not be rewarded.
THERE IS EVERY POINT TO TACKLE INEQUALITY.
Scarcity of resources that can be alleviated only by market-based solutions.
Unfortunately for all Earthlings of whatever religious persuasion, the pristine lakes, rivers and streams, clean beaches, thriving forests, living oceans and seas, and fertile unspoiled land, cannot be "produced" by more regulations or by less.
Despite recycling efforts, almost 9 million tons of plastic end up in our oceans.
To deliver biofuels that would displace all fossil fuels, as well as food, we would have to manufacture and colonize six extra Earth-like planets.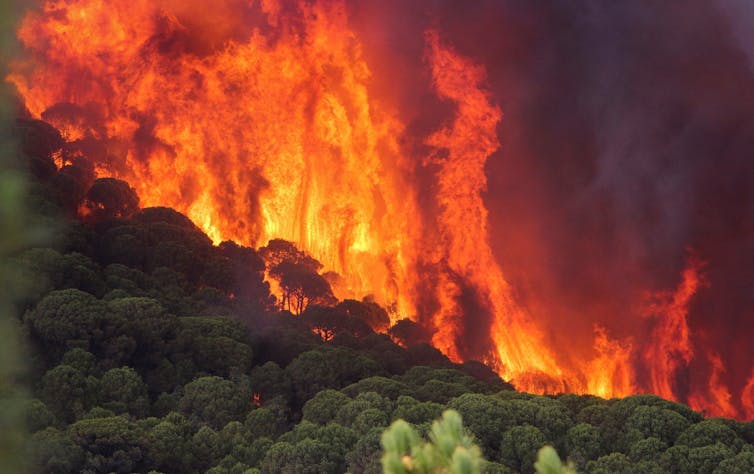 I submit to you that this is the grandest of the many delusions that have ripped through human cultures over the millennia.
So here is a blog to read that tell the truth.
( "In order for us to maintain our way of living, we must, in a broad sense, tell lies to each other, and especially to ourselves. It is not necessary that the lies be particularly believable. The lies act as barriers to truth. These barriers to truth are necessary because without them many deplorable acts would become impossibilities. Truth must be at all costs avoided.
When we do allow self-evident truths to percolate past our defences and into our consciousness, they are treated like so many hand grenades rolling across the dance floor of an improbably macabre dance party. We try to stay out of harm's way, afraid that they will go off, shatter our delusions, and leave us exposed to what we have done to ourselves and to the world, expose us as the hollow people we have become.
And so we avoid these truths, these self-evident truths, and continue the dance of world destruction." Derrick Jensen, A Language Older Than Words, Context Books, New York, 2000, Silencing, page 2.
People all across the world are scared, angry and disoriented, and their governments routinely fail to explain the very basics of what is going on. Why is that?
Perhaps for the first time in modern western democracy, our leaders and leading intellectuals are relying in an essential way on keeping people confused. This puts us on the opposite side of the moon from the attitudes of John Locke, Jean-Jacques Rousseau, Voltaire, Thomas Jefferson, Benjamin Franklin, Thomas Paine, and so on, who did their best to explain their thinking clearly to all. When these great men lived, the Earth surely seemed infinite, but she is very small today.
Here is the kicker: To pretend nowadays that the Earth is infinite, as most of us effectively do, and is capable of feeding our runaway economy ad infinitum requires some serious self-delusion.
In fairness to our leaders, they lie and we eagerly consume their lies, because otherwise, we would have to change from within, and for most people change is genetically impossible. Generally, we leave change to political campaign slogans which so obviously lies that we do not have to do anything.
So, this is how it goes. Someone lies about an economic recovery which is just around the corner; someone else lies about the banks that must be saved at any cost with our money because they are too big to fail; and yet somebody else professes that converting over half of our fossil-fuel driven food to a fossil-driven biofuel is good for all. And we all listen to these empty lies and eagerly try to believe them, for what else we can do. That is a good question, isn't it: What else can we do? Can you think about a thing or two you could change on your own?
How far do we need to step outside of the current system of lies that are fact to most?
Not that far, it turns out. All we need to do is to admit that the Earth is finite, her resources are finite, and the current global economic system cannot grow. In Europe, Japan, and the U.S., the respective economic systems have already reached the maximum attainable complexity and must undergo deep simplifications.
My Conclusions
" "Maturity," Bokonon tells us, is "bitter disappointment for which no remedy exists, unless laughter can be said to remedy anything." "Kurt Vonnegut, Cat's Cradle, Chapter 88, page 198.
More of the tropical forest has been burned alive and a new oil palm or soybean plantation is born. This plantation will produce biodiesel or feed for Chinese livestock. The good environmentalists will observe that the carbon footprint of the clean biodiesel produced on this plantation is negligible. The good marketers will say that a free-market solution is used to develop an idle resource in a third-world country. I say that everybody lies to cover this self-evident crime, but the living Earth is diminished further, in exchange for 10 – 20 years of someone's illegal cash profits, most likely financed with a World Bank loan. After that, the polluted, depleted, and eroded-away land will be abandoned, and the plantation will take over another area of the forest. And so on, until we run out of the forest.
I am mature alright, and I laugh a lot, but this is what I must say through tears: The Earth is not in a state of "environmental crisis" that would imply a temporary condition amenable to remediation. Because of too many people, who consume too much and produce too many things using messy technologies, the Earth is in the state of chronic environmental degradation which shows signs of acceleration, not abating. There are no global solutions, but there are ever more deleterious designs on what is left of the environmental services of the planet. One such big design involves the production of biofuels in the tropics, and Europe and the United States of America are deeply implicated.
We want to avoid the outcome of Cat's Cradle: All life on Earth being exterminated by superior science. Thus, we need to step out of the bounds of our current systems thinking and look from the outside on the false security of our complex societies. Perhaps then we will be able to see more clearly where this continuing environmental degradation leads us and do something.
It is safe to say that my difficult and unpleasant suggestions will not be heard by mainstream journalists and politicians on the left or the right. But what is bound to happen then? My natural laughter freezes when I think about the consequences of stumbling along, while also knowing that exactly nothing will happen until it is way-way too late".)
Most people don't realize What happens to our heat-trapping fossil fuel emissions after we release them, … will continue to expand even though Earth's atmosphere has begun to recover.
A human can live for only 5 minutes without air, 3 days without water, and 30 days without food.
If you want to live now is the time for Profit Capitalism to be made to pay. ( See previous posts on a World Aid
With Climate change now becoming a by-product of consumerism we will unfortunately all end up as products of our cultures.
There is no second world that any of us are going to to visit.
All human comments appreciated. All like clicks and abuse chucked in the bin.