UNITED NATIONS CHARTER.
Chapter I
                            PURPOSES AND PRINCIPLES
To maintain international peace and security, and to that end: to take effective collective measures for the prevention and removal of threats to the peace, and for the suppression of acts of aggression or other breaches of the peace, and to bring about by peaceful means, and in conformity with the principles of justice and international law, adjustment or settlement of international disputes or situations which might lead to a breach of the peace;
To develop friendly relations among nations based on respect for the principle of equal rights and self-determination of peoples, and to take other appropriate measures to strengthen universal peace;
To achieve international co-operation in solving international problems of an economic, social, cultural, or humanitarian character, and in promoting and encouraging respect for human rights and for fundamental freedoms for all without distinction as to race, sex, language, or religion; and
To be a center for harmonizing the actions of nations in the attainment of these common ends.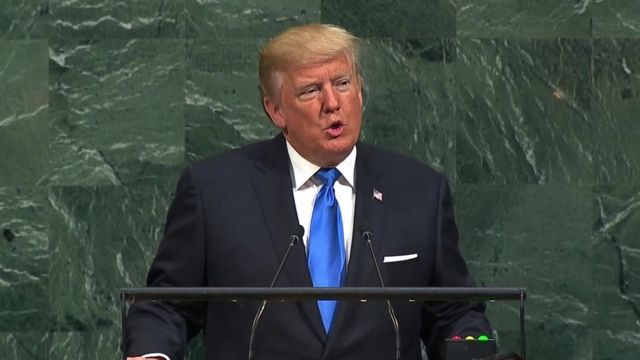 A charter represents a document that describes a project, its rationale, its goals and its participants. The purpose of a charter aims at aligning the expectations of all the contributors so that their energy focuses on the project's priorities.
The Charter is not to be confused with The Universal Declaration of Human rights adopted after World War 11. It is perhaps the closest thing we have to a global Constitution- categorically states that the right to life is humanity's fundamental value. Death is a crime.
It would appear that from the speeches given by either of the above that they DO NOT fully comprehended the above charter.
In his Sovereignty – centric speech Mr Trump threatened to totally destroy North Korea, called Iran a corrupt dictatorship whose main export is violence.
While Mrs May in her speech threatened withdrawal of funds.
This is not the first time not will it be the last that a World leader has used the UN to criticize other nations. Mr Bush with the axis of evil. Mr Khrushchev trumping the table and calling Filipino some obnoxious name in Russian.
Both Mr T and Mrs M appear to think that the yard stick to measure a nation's success is GDP. This kind of thinking is driving humankind to make happiness a second goal for the twenty-first century which is highly unlikely unless inequality, war, and climate change disappear.
Surely the UN is not the platform for sovereign selfish nations to be expressing treats to other nations. Stirring up hornets nest is not what the world needs.
Here a few examples from each of their recent addresses to the UN.
MR D Trump first:
"The United States has great strength and patience, but if it is forced to defend itself or its allies, we will have no choice but to totally destroy North Korea. "Rocket Man" is on a suicide mission for himself and for his regime."
" It has just been announced that we will be spending almost $700 billion on our military and defense."
Then a raft of contradictions:
" In America, we do not seek to impose our way of life on anyone, but rather to let it shine as an example for everyone to watch."
" We are celebrating the 230th anniversary of our beloved Constitution, the oldest constitution still in use in the world today. This timeless document has been the foundation of peace, prosperity and freedom for the Americans, and for countless millions around the globe whose own countries have found inspiration in its respect for human nature, human dignity and the rule of law."
"But we can no longer be taken advantage of, or enter into a one-sided deal where the United States gets nothing in return."
"As long as I hold this office, I will defend America's interests above all else."
"The United States is one out of 193 countries in the United Nations, and yet we pay 22 percent of the entire budget and more. In fact, we pay far more than anybody realizes."
"The United States of America has been among the greatest forces for good in the history of the world and the greatest defenders of sovereignty, security and prosperity for all. Now we are calling for a great reawakening of nations, for the revival of their spirits, their pride, their people and their patriotism."
"Our hope is a word and (sic) world of proud, independent nations that embrace their duties, seek friendship, respect others and make common cause in the greatest shared interest of all, a future of dignity and peace for the people of this wonderful Earth."
"This institution was founded in the aftermath of two world wars to help shape this better future. It was based on the vision that diverse nations could cooperate to protect their sovereignty, preserve their security and promote their prosperity."
The success of the United Nations depends upon the independent strength of its members.
"We do expect all nations to uphold these two core sovereign duties: to respect the interests of their own people and the rights of every other sovereign nation."
"Today, if we do not invest ourselves, our hearts and our minds in our nations – if we will not build strong families, safe communities and healthy societies for ourselves – no one can do it for us."
"This is the beautiful vision of this institution, and this is the foundation for cooperation and success. Strong, sovereign nations let diverse countries with different values, different cultures and different dreams not just coexist, but work side by side on the basis of mutual respect. Strong, sovereign nations let their people take ownership of the future and control their own destiny, and strong, sovereign nations allow individuals to flourish in the fullness of the life intended by God."
We want harmony and friendship, not conflict and strife. We are guided by outcomes, not ideology. We have a policy of principled realism rooted in shared goals, interests and values.
And just as the founders of this body intended, we must work together and confront together those who threaten us with chaos, turmoil and terror.
"We will fight together, sacrifice together and stand together for peace, for freedom, for justice, for family, for humanity and for the almighty God who made us all."
"Are we still patriots? Do we love our nations enough to protect their sovereignty and to take ownership of their futures? Do we revere them enough to defend their interests, preserve their cultures and ensure a peaceful world for their citizens?"
The UN relies on the independent strength of its members.
Theresa May:
"We face challenges that go right to the heart of who we are as nations."
"I believe that the only way for us to respond to this vast array of challenges is to come together and defend the international order that we have worked so hard to create and the values by which we stand. For it is the fundamental values that we share, values of fairness, justice and human rights, that have created the common cause between nations to act together in our shared interest and form the multilateral system. And it is this rules-based system which we have developed, including the institutions."
This statement in the light of Brixit is total hogwash and on we go.
"Indeed, the defining purpose of the UN Charter is to maintain international peace and security, to develop friendly relations among nations, to achieve international cooperation in solving problems of an economic, social, cultural or humanitarian character; and to be a center for harmonizing the actions of nations in the attainment of those common ends."
"An outward-looking global Britain and the second biggest funder of the UN the UK will remain committed to spending 0.7% of GNI on development and humanitarian support. And that is why we will remain generous in our funding but set aside 30% to be paid only to those parts of the UN that achieve sufficient results."
It is true to say that the UN needs reform, but it can only become relevant if it is financed to tackle world problems. ( See previous posts)
Both Speeches ignore Climate Change and the need to address inequality that is the spawning bed of all terrorism, driven by the technology of the smart phone.
The world is changing and we don't have to be prophets to see if we as its intelligent guardians don't address its underling problems there will be problems that will put all our technology, all our unsustainable greed, all our power of destruction, into the shade.
All comments appreciated, all like clicks chucked in the bin.