KENYA.
 What we know:
NAIROBI: MONBASA: MAASAI: KENYATTA: SAFARI: TEA: SERENGETI: MAASAI MARA: ERNEST HEMINGWAY: ROOSEVELT: LEAKEY: ELSA THE LIONESS OF JOY ADAMSON'S BORN FREE.  
By the time we pass a half readable battered sign in the middle of nowhere marking our crossing into Kenya Loliondo has long disappeared. Tracks to right, to the left and in every direction one wished to point meander up and over rolling hills, down river beds around termite hills and Kopjas. (Small hills)
It is like coming on watch in the middle of the Atlantic except here we are moving without any definite horizons in a green/brown, static, hot, soundless slap of land marked by acacia lighthouses. This is definitely who went where land in more than simple terms.
We are in the Maasai Mara a mere 1503km² of it and when it is added to the Serengeti 14763km's it's no wonder we end up lost. Anatomically modern humans without the befit of a bird's eye view must have wandered around them these parts for a hell of a long time before they set of on our ancestor's global wanderings. That is exactly what we are doing getting nowhere fast. Lost. After several hours and getting ourselves into some tricky driving spots, we stop at the nearest hut to ask directions. A wave of a hand brings a long speared long-legged red-blanketed Maasai Youth. He will accompany you we are told. Every time you meet a Maasai close up you get the feeling that he or she is not from Africa but from some ancient Egyptian culture.
Our youth has classical features. Tall and hipless, with very high cheekbones his two almond eyes take us in with a large dose of arrogance. The lobes of his ears are pierced and stretched extremely.   He is a peer of the realm a member of a higher race that dislikes all ways of commerce or employment. He is a lion killer > A lover of blood milkshakes, uses cows as hard currency with a dim view of woman's place on earth.   Fanny all goggle eyed with his masculine beauty tries smiling at him. The response is hidden in the deeps of his culture rejection of the twenty-century.
Florence climbs onto her back seat perch while our youth saddling the gearbox casing is squeezed into the middle. His spear is slipped down alongside the driver side window with the point resting just behind my neck. Flo God bless her, places a firm hand on the spear much to the displeasure of our Maasai.
Forty kilometres pass by without us seeing one of the 2,000,000,000 wildebeest, 200,000 zebra, 70,000 topi, 30,000 Grant 's gazelle, 9000 eland, 8000 giraffe, 1500, lions, 800, elephants that roam them these parts. After another ten without a word our Maasai GPS dismounts with a firm grip on his spear that points up towards the next set of rolling hills. No payment for his services is accepted other than a few cigarettes for the return journey. We watch him loop the lobes of his ears around the top of his ears as he prepares to leave us. While we stick out like sore thumbs he walks of into the vastness of time till his shuddering figure lingers at the edge of colour and light where he is swallowed as if he never existed.
We continue haunted by his boyish openness his smile. We wonder if he realises that he represents the real Africa to millions of people becoming the classic tribe of Africa with the amount of attention that has being lavished on them.   Plastered all over travel brochures the Internet along while jumping up and down on our television screen he belongs to one of the most photographed tribes of Africa. Does he realise that in reality he is from a people selling their culture to the highest bidder. Hawking themselves as the typecast that westerners want them to be > Vibrant, dignified, noble, free from anxiety, self-regulating, savage, imposing, egotistical, detached.
The cigarettes are a certain indication that our world is already contaminated his world. One way or the other we are agreed as with most of Africa that too much and too little of the modern world has encroached on his world.
One hour later we arrive at a nameless Tim-buck-two village. It's the first time we have come across the Maasai in numbers. If cattle represent the wealth of Maasai life there is no sign of it here. Two individuals of undetermined sex pass by. Both are wearing what looks like collars of dry leafs hung around their necks. They look like two old Guinness dray horses plodding down the street. Ignoring our cries of Narok, Narok they pass by.   Empty liquor bottles litter the road.   Life is this place is drab with escape coming through the local brew and imported vodka. Narok, Narok, fall on deaf ears till we stop a small store.   The Maasai give nothing away for free. Once the most powerful and feared tribe in Kenya they mercilessly pester us for money.
A quick purchase of come alive with a coke attracts the normal herds of children. "Narok, Narok." A CLATTER A FINGERS POINT IN EVERY DIRECTION. We drive out of the village non-the wiser. A half hour later we come upon a farming project run by some aid program. Narok! > At long last a positive reply. No problem you are on the right road. A horrible looking corrugated dirt track is pointed at. To be avoided at all costs. We drive alongside the track. Unknowing we nearly circumnavigate the Mau Escarpment to arrive in Narok late in the night totally worn-out.
We are all so shattered that there are no arguments over Pitch No 107. By the time we awake to head into town the sun is well into its blistering mode.   Narok presents its self as a bustling small town. Our first port of call is the police station to report our honest arrival in Kenya. Pointing to a map they are more than taken aback at our route of entry. "You mean to say some whites cross over from there to here." You're joking! However a letter to the Department of Immigration in Nairobi is given without too much hassle explaining our unusual arrival.
We lunch in a small restaurant sitting on its upstairs outside wooden balcony. The rest of the afternoon is spent watching the perplexity of Narok life. Trucks bleaching their last dying efforts. Matatuh Taxis (Peugeots) defy their axle strength swallowing mountains of large plastic bags, boxes along with the accompanying awaiting mob. All taking place in a perpetual film of dust that lingers like a shroud hovering over the ground out of which baffling shapes emerge and dematerialized right in front of one eyes. Some are bodies with no legs depending on whether there is a truck passing or just a large basket floating head high on its way to the market or out-of-town.
Visiting Maasai dressed in traditional robes of chequered red accompanied by their woman decked out in telephone wire necklaces add bright splashes of colour in the haze. Their manner of walking quite unlike the bulk of the inhabitants caught ones attention, stylish and fast.
One can see quite easily why many a western woman is attracted to sleep with a Maasai. Braided hair into tight plaits, a smearing of Ochre, spear, marginalised from the Kenyan mainstream, proud, warriors they must make many a thigh shiver in the bush.
Returning to our campsite we find an old haggard Maasai cleaning out the goats shed in order to settle down for the night. He is our watchman and we are his only protectorates for the night. He is long asleep and snoring before we retire and is still in the land of nod hunting that lion to become a man once again by the time we have slip our moorings for Nairobi. The place of cool water in the Maasai lingo is calling.
As we drive along past place names like Lake Nakuru, with it millions of flamingos, Lake Turkana, Mt Kenya, Mombassa, Torn tree café New Stanley Hotel, Out of Africa await us.
Kenya is the land of safaris where it all begun the very word Safari comes from Kenya > Swahili for travel. We climb up out of one of the many steep rift valleys floors and before long begin to realise that a great deal of beautiful Kenya is hidden out of sight behind the dreaded sign of – Private keep out.
The soul of the country is lost/hidden by exploitation tourists style > Lost to its young. Replaced by fencing and gates and Take; Take on a big scale with very little given back by either black or white.
Arriving in Nairobi its bears witness almost immediately to the visible scars of the 'I am all right Jack' policy the now apparent guiding principles of modern-day Kenya's rich whether they be black or white   Apart from its swanky five-star hotels, banks, and up-market restaurants the city looks shabby. The bougainvillea, jacaranda, hibiscus is doing there best to cover up the fast depreciation of once the most well-known African city.   No longer a city of national pride, neglect is apparent everywhere. Its wide centre city streets with western style sophistication lack a convincing heart.   Surrounded by unplanned settlements representing 60% of its living quarters for its three million inhabitants it is fast earning its new nickname Nairobbery reputation.
From the bible we choose a hotel in the centre on Mfangano St, which of course turns out to be one of Nairobi brothel of brothels. We stay. Why not? It's cheap and the sheets are changed daily. Fanny takes advantage of the second floor massage parlour while Flo and I resist all offers other than a drink in the bar. There is no lock up for Williwaw so I move her to a nearby secure parking down the street for the night before we venture out in search of some grub. Over dinner we learn that Mombassa is to be avoided, as are the streets of Nairobi after dark on foot.
We are to spend the next few days in Nairobi before completing the final stage of our African journey. Williwaw needs attention, visas need securing, funds replenishing, and the shipping home of a large box of goodies to reduce or weight load by a ton. So our plan is to contact some friends of the Lennon's of Zimbabwe in the hope they will invite us over to stay a few days. Returning to our hotel of ill repute the rooms of which are set out more like a penal complex than a three star hotel. Two long wings across a narrow gap three stores high face out on to each other. The gap is bridged by wrought iron walkways on each level with one concrete stairwell servicing both wings.
A phone call and some complicated directions confirm our departure in the morning. Like most large cities Nairobi is a bewilderment of traffic signs totally ignored by all except those that don't know better. Cop dash traps and traffic lanes, lights and the like.   As always everybody knows exactly where you want to go, even if they don't have the foggiest notion, so we eventually arrive in white mans suburbia somewhat drive bonkers by the merry go around. Our host is not the slightest surprised that we had trouble following his directions. Ten minutes later we drive through a set of gates man by a security guard to a large modern house set in 3 acres of manicured gardens.
Tony and Lesley have being living in Nairobi with their two sons who are eight and nine for the last twelve years. They are delighted to put us up. Over dinner it becomes blatantly obvious that they are starved of company. They suffer from the ex-colonial attitude to life.   Yes Sir three bags full so long as we don't have to contribute to Nairobi or Kenya. Such an attitude has cut them off from all black contact.
Tony is an accountant with a self-indulgent wife named Lesley. All her whimpers are pandered to by a cook, a housemaid, a driver, and a gardener. She is highly critical of all characteristics black and we doubt if either of them have ever seen the bottom of their garden.  Beggars can't be choosey. We stay a week.
Nairobi as a city may be in need of recapturing some of its glory days but for us it is our last major port of call to plan our final few months in Africa and our exit by whatever route. So Williwaw on the other side of Nairobi recommended by Tony gets a well-deserved servicing costing 500 US$. I get a wooden crate built to lighten her load which is a ship to the UK at a costs 408 US$. Not bad considering its size and weight. (It did eventually arrived intact) I attend to some banking African style where nothing goes to plan and everything gets lost.   (Top TIP:   Moving funds from Europe to Africa Banks require every piece of documentation to be kept and confirmed.)
We visit Lady Sue Woods whose home is alongside Karen Blicks the author of Out of Africa. Unlike our hosts Tony and Lesley she is a lifetime giver to Kenyans. Now in her late seventies she is still full of enthusiasm in supporting self-help for Kenyans.   Before a long wonderful lunch with too many Bloody Mary's we are shown us around her latest effort. Attached to her home is a necklace making operation run by a co-op of local woman.   A necklace is a compulsory buy.
On a Lesley day tour we visit Daisy Rothschild Giraffe Park or twiga Park in Swahili. A large manor house is set totally out-of-place in amongst Acacia trees.
For the price of feeding bag one can mount a wooded platform and get a face wash or a tongue-lashing from one of the many Twiga's that roam around the house grounds. This is followed by a cup of coffee in the manor lounge while watching a few warthogs mowing the lawn.   Then it's on to well a known Carnivore restaurant where one can stuff oneself with slices of all known African meats > Kudu, Springbok, Ostrich, Pork, Beef, Warthog. I turning down the Elephant – "I don't think I could handle a whole one on my own."
We make contact with my namesake Mahinda Dillon. A man of African qualities in that he gives without looking for reward.   He suggests that we take his pad in Nairobi National Park for a few days, which we accept. By the end of all this activity we know our way around Nairobi quite well. With a final check for any messages on the famous Thorn tree at Stanley's hotel down town Nairobi confirms that are free to go.
Our Ethiopian visas are issued so the decision to visit and then to head on up to Egypt is made over a thank you dinner in a downtown swanky French restaurant unknown to our hosts that cost an arm and a leg. Next morning we leave and drive up to Nairobi National Park to rest in Mahinda's pad for a few days.
After a short drive out of the south of Nairobi with a surprise visit to Wilson Airport we eventually find hidden down a track behind a large quarry the entrance to Kenya's oldest and East Africa's first National Park. It was Founded in a great part by the persistent championing of an Irish man named Captain Archie Ritchie who fanatically fought for sacrosanct wildlife sanctuaries that would be devoid of Government involvement. A view not generally shared at the time. It is rather weird to be entering a game park, which is separated, from a city by a few strands of wire. A park that is being slowly throttled by creeping development Nairobi the Park is at the forefront of the Human-wildlife conflicts. It is this very problem that will shape the very existence of the remaining mega fauna that still roam much of the earth.
Ali Baba Mzee Dillon watchman is plainly shaken by our arrival. He opens the gates to the house, which turns out to be in a state of construction along with a large wooden viewing platform. There is no running water or electricity.
So we pitch No 108 on the roof beside the house, which is situated on a hill behind large walls. It is good to be away from Nairobi where every third blowjob goes to save a rain forest. Nairobi thriving sex industry is turning it into the sexpot of Africa thanks to German sex tourists.
While Fanny set up camp Flo and I take a walk down to a dry riverbed. We had spotted a few Giraffe from the wooden platform. Without the slightest breeze to carry our scent it is a hot and dusty walk. We manage to get in amongst some large Acacia trees and work our way forward to within feet of a few undulating giraffes. They look at us over the top of the trees like young girls caught doing something naughty with their long curling eyelashes. There is a wonderful quietness and cleanness of being on foot in the bush compared to sitting in a vehicle surrounded by modern technology. However it not long before the heat of the day makes us break our cover and return back up hill like panting dogs.
Morning finds none of us in great form especially me having spent most of the night on the long drop. I feel woeful as we set off on our first jaunt around the park. Dillon had told us to visit a friend of his who also had a holiday home in the Park. His friend now an artist was apparently once Idi Amin's Press Secretary's. After many dead ends and I feeling seven time worse than when set off, we eventually locate the house.
Over an elongated lunch the Idi Admi stories do little to improve my general feeling of ill-health. One of our host stories however illustrates the deranged Fat Mans' dark sense of humour.   "You remember when he requested that the Queen of England should come on bended knee to plead for the life of one of her subjects." He was furious when the British government sent Callaghan instead of the queen herself coming to beg of her subject's life. " "To ensure that the British Government knelt before him he had a traditional African hut build inside one of his Palaces with its low entrance door facing the palace entrance." " We were instructed under pain of death to photo Callaghan on all fours entering the Hut."
By the time we make it back I am also on all fours. There is nothing for it but a visit to quack in the morning.
It is confirmed that I have caught a mild dose of Dysentery. A course of antibiotic drugs is the only remedy. The tablets make me feel seven times worse, causing all that I look at to swim before my eyes. At sea no matter what is wrong with you, the eyes have only two landscapes. > The sea and the sky one on top and one beneath. On land you have the added bonus of a multitude of horizons to contend with. Luckily for me the wonders of Metronidazola work. We leave spotting one mange lion on the way out that also looks like it could do with a dart of something to sort it out. (Top TIP: Nairobi Park is worth visiting only if you are desperate to see it.)
Following the Rift valley we head for Nakuru Kenya's fourth largest town halfway between Kisumu and Nairobi.
Founded in the late 1890s as a British Railway Camp it is typical of many a Kenya town. Why here? Like most of you for years we had watched on TV nature programmes imagines of greater and lesser flamingos (as if you were all suppose to know the difference between the two.)   Thousands of them, strutting back and forth on stilt legs hooked peaks filtering the alkaline lake waters oblivious to all around them. National Geographical bombarded us with incredible Photos of steaming waters dotted with pink under the title of "The world greatest ornithological sight."   Pictures of Swooping fish eagles, charging baboons, with that one isolated flamingo either having its pink feathers plucked or staggering back half conscious to the unconcerned mob that pranced back and forth with their peaks held high in total contempt of his or hers survival. Well after our first attempt back at Lake Natron's in Tanzania this is where it all happens south of the town, on Lake Nakuru.
We arrive with Williwaws new radiator bleeding. Jesus I think not another radiator. We limp into town to be saved by an Indian and his brother owners of an engineering works. They have the radiator out in a jiffy, welded and replaced within two hours. There work shop is fascinating full of old German tooling machines. Mohammed assures me that they can tool one piston or for that matter any piece that has long disappeared from the market. We also learn from Mohammed that last Flamingos had long flashed their feathers to communicate that it is time to abandon Lake Nakuru for Lake Bogoria. We stay the nigh in a local hotel which turned out to be just as well as the radiator needed some additional TLC in the morning before continuing north.
Without a speck of pink to be seen for miles Lake Nakuru comes into sight.
Nevertheless nestled below us in amongst its surrounding smooth hills it is breathtaking we decide to drop down on to its shore and camp the night. Shock of shock the entrance fee is shameful so we push on up pass lake Bogorla to lake Baringo a freshwater lake twenty kilometres further north. Here we pitch No 109 at Betty Robert's campsite on the lakeshore.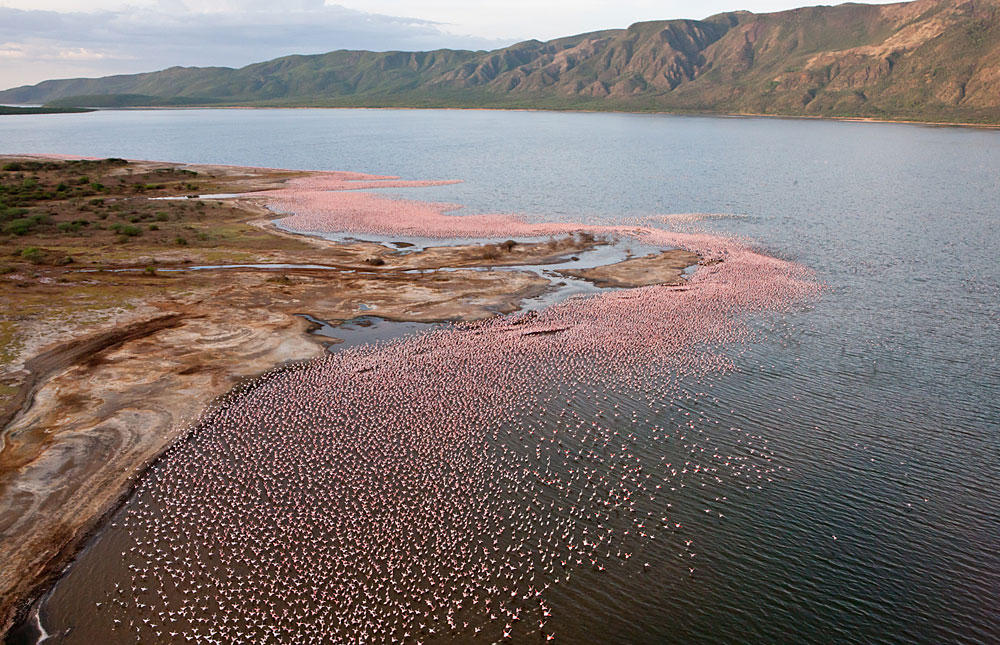 Lake Baringo unlike the others due to its fresh water attracts over 400 species of bird so our Bird Book gets a sever bashing over the next two days. The smaller the bird the brighter the colour, White-headed fish eagles, small kingfishers, weaver birds, lilac breasted rollers, marabou stork, ibis, goliath heron, bee eaters to name but a few.   (Top TIP: Twitchier freak this is the place for you. An early morning boat trip along the lakeshore will blow your feathers away.)
While planning our route over to Ethiopia our next store campers turn out to be the founder of Overland Africa. Betty the camp owner advised against crossing by way of Archers Post due to bandit land but Overland Africa tells us that the Samburu national reserve is not to be missed. Also it is possible at Marsabit to join a convoy to the Ethiopian border.
A night of munching Hippo beside the tent does not quite set us up for departure in the morning.
The trip over to Archers Post is dusty and hot with Williwaws radiator needing topping up ever hour. By the time we arrive a little luxury is required to lift the girl's spirits. We head out of Archers post to the Samburu National Reserve. It is made up of three small game reserves Buffalo Springs, Shaba and Samburu. Combined they make the Best Park in Northern Kenya if not indeed in the whole of the Kenya. All are situated on the Ewaso River. By the way Ewaso is another name for Nairobi.   The three parks made up of scrub desert, thorn-bush, riverine forest, and swamp covers an area of 534km² with Archers post smack bang in the middle.
Two miles south of Archers post we enter the Shaba reserve and drive into the car park of a superb resort-style Lodge situated on the river. This time it's not the bird book that gets a bashing it's the visa card turn. In no time a tall coffee –coloured Samburu, escorts us to our room overlooking the river.
Samuel Baker I am sure never had it this well when he passed through these parts in Victorian days.   But it is certain that the animals had as these wild life Reserves and Parks are fighting a rear guard action to save what is left of them.   Looking out the window of our room a large croc slides silently off a sandy bank as if expecting to be feed by the new arrivals.
I wonder if time sense of human beings is less well-developed that of most animals.   I can only presume that animals have no knowledge of the rotation of the earth on its axis or of its revolution around the sun. Like old Astronomers in the past the motion of the sun, moon and stars were looked at purely from a terrestrial point of view, which I presume is the same as animal's point of view. They keep time with external events. So as why this croc considered it time to move is resolved with a further look that reveals it is being baited for some pre dinner amusement.
On our way to dinner an event board in the lobby announces a Samburu Surf Up dance in the lodges mock-up Samburu village at eight pm. A group of young Samburu men are to re- in – act the wooing dance with jumps that flout gravity.
The Samburu closely related to the Maasai are also a nomadic cattle-grazing people who split from the Maasai some centuries ago but still share a common Nilotic language which is 89% lexical similar.   To the non-trained eye it is difficult to tell their difference but the laid on show demonstrate they can jump just as high as any Maasai. The whole event turns out to be quite a performance I taking full advantage with the camera. Photo no – cd
By the time we have fully indulged ourselves over breakfast served on the terrace, showered and soaked in the large bath tub our first game drive is, Yes you got it right > when mad dogs and English men come out in the noon day sun. We drive down the Ewaso Ngior River, which forms the reserve's north-western border. Not a thing shift in the rocky hills and dotted thorn bush so we return to the Lodges large swimming pool for the rest of the day.
Checking out in the morning we head south over to Buffalo Reserve. Camping under some peculiar tall Palms called Doum we are once more beside the Ewaso.   Pitch No 110 is in a beautiful spot. It rewards us however with one of the worst night sleep of our trip.   Shrieking baboons and dreams of last night soft mattress keeps us all awake till the early hours of the morning.
After the night's wretchedness a highlight of the trip presents its self on our doorstep when we were least expecting it. Approaching out of the high grass and scrub are two cheetahs with two youngsters. Although there is a kind of edgy energy in their movements they seem to have no fear what so ever giving us just a casual stare that has a factor of a face off.   They view us like we are just another family of prowler in the bush. They are so close we could almost stroke them.
After the setting of the lodge with its artificial backdrop that isolate one from the surrounding bush, all sense of advantage and dominance disowned us. We are acutely aware that it is us who are outsider and will remain so.   Their very present re awakens's our sense of adventure and exhilaration giving us a true potent whiff of Africa.
(Top TIP:   If truth were told seeing an animal in its natural environment is something of an eye-opener. All written, photographic or film encounters fall short of preparing oneself for such an encounter. When reading or for that matter watching an animal on TV from the security of you armchair one gets no sense of privilege. The real beauty/hardships of the surrounding environment are not real in as much that they lack the vibes to impart the very essence of such an encounter. So long may the parks survive to provide a refuge for the glory living creation that enhances our lives. When viewing an animal it is a good practice to apply some of those Buddhist concepts of seeing beyond the animal.)
The ultimate speed machines saunter bye us with their long fluid bodies moving in slow gear. The youngsters sport long silky grey mantles following the purr of their mother. It hard to believe that they originated over 4 million years ago, and now suffering from a small gene base as to make them all related to each other like twins. Their spines work like springs over small collarbones and vertical shoulders blades. Every piston moving with such ease and grace that here indeed is the cat truly built for speed. Their beautiful face features enhance by dark tear marks under elongated eyes explains why Egyptian Pharaoh Princesses fell in love with their beauty. Their large nostrils open and shut in relax mode. We don't dare lift a figure this is one for the hard disc of the mind.
By the time the spell is broken it is still early morning. Breakfast is wonderful with the night's woes long forgotten. Fanny decides to hang loose around our camp while Flo and I go for a look around explore. We cross the river disturbing a few sleeping crocs. They slip back into the river with a slice like movements of their tails submerging without a ripple to re appear down river. Over a period of time one builds up a curious lack of interest to croc.   You don't see them as lunging out of the water to wrestle down some mournful looking wildebeest. They are usually stationery lumps that lay around all day spreading halitosis till some ancient cog brain clicks when up they go up on their fronts legs and march like robotic machines to the water turning into stilt killers.
We park under a large Acacia. Nothing moves but we both sense that we are being watched. Right above Williwaw to our startled astonishment is a Leopard. Up to now we had only hear its night growls never sighting one. From motion in poetry to the stilt of the night in one foul sweep is mind-boggling > the prowler supreme>the baboon's nightmare. The most powerful jaw muscles pound for pound are right above our heads. We get twenty precious minutes observation before our find comes to the attention some passing Lodge safari vehicles and the moment is destroyed by the unenviable camera clicking and videos purring.
Returning to camp we find Fanny in a high state of excitement. She has had a show all of her own. A croc had helped its self to a passing baboon while it was crossing the river on a fallen tree trunk. The magical day leads to magical dreams that have me on tent patrol duty several times during the night.
After such a day the next day of venturing up every track around every rocky out crop, kopjas (small hill) and dead-end is a total anti-climax. We spot just one old shaggy lion before the heat beats us back to the shade of our wonderful Palm trees.
Leaving our last game Park of the trip we head back to Archer's Post for some more radiator repairs. Arriving we find that we will have to back track further to Isiolo to have the damn leaking radiator looked at. A frustrating day in a rough town eventually sees the job done after several hours of hanging around. (Top TIP: Bad leaks can be minimised by taking off the radiator filler cap. But you need plenty of water to top up. Bring some Radweld. The old egg in the radiator works only for small leaks.) During our wait two young backpackers approach us. We agree to give them a lift in the morning to Marsabit across the Kaisut Desert.
(To be continued)
Donation News>  Still fresh air. Zero.  Be the first. Robert Dillon Account no 62259189. Ulster Bank 33 College Green Dublin 2 Sorting Code 98-50-10.