GHANA.
WHAT WE KNOW
GOLD. SLAVE TRADE. ASHANTI. CACAO. COUPS. FLIGHT LIEUTENANT JERRY RAWLINGS. BRITISH COLONY. ACCRA.
Still shaken by our narrow escape we spend our first two days in Ghana pitched in the backyard of the customs. Pitch no 53&54. I give Williwaw a once over while the girls replenish their strained nerves.
Our first day back on the road sees us stopping in a small village just outside Tamale the Northern Capital of Ghana founded by the British in the 1900s as an administration centre. Fanny searches out the elders of the village for permission to camp.
(Top TIP: It is good policy to request camping approval when pitching near a village. The stamp of approval gives an element of protection. The courteousness in doing so is more than just good manners.)
In no time we are directed to a suitable spot. Pitch no 55 is a rooftop pitch. Every move we make is watched by the locals with the same intensity as that of a movie audience that is gripped by the hero's dying words. The whole show is topped off by Fanny's 7pm cooking program.
By the time the last set of unblinking eyes have returned to the village the girls are sound asleep.   I sit sipping a whisky listing to the African night sounds that I have become used to so far > the chainsaw sound of the forever present of crickets > The clanging sound of kamikaze flying insects against our hanging light. One of which is bound to do an Acapulco dive into whatever you are drinking.
Enjoying my large ball of malt there is, however, another faint sound drifting on the warm evening air > A drum. Another soon joins it, and then another.   Soon there is the champagne of rhythm so magnetic my heartbeat is keeping time. The snoring from the rooftop is also in time reassuring me that I will not be missed. I finish my whiskey arm myself with a stick and venture towards the village.
(Top TIP: Unannounced, unaccompanied, night village visits are usually met by sets of snarling canine teeth.) 
My entrance to the village is dog ivory free. As a complete stranger, I receive spontaneous hospitality. To attempt to describe such open hospitality is impossible. It's a welcoming that only a real traveller can appreciate. It restores one's belief in human nature and it is one of the great rewards of real travel. Not like the welcome one gets on making landfall, which is to a great extent somewhat false, short termed and governed by opportunity. This welcome is governed more by traditions handed down from one generation to the next.
I am immediately given the seat of honour. Right beside the Rat-tat tatter (a piece of tin that is being walloped with a stick) and the bass drum which is held by a small boy whose job is to hold it in place. As the beat increases the square is dampened down with water. The gig is full swing. With no common language, my ears vibrate to the rattle of my teeth. I am treated as an equal.
Three and half-hours later I slip into my sleeping bag but sleep is impossible. My brain is telling me that I am lying on a tin roof that is being belted with a frying pan.
Thankfully in the morning, the night's gig has reduced the ratings for the breakfast show. We awake to find just a few of the elders sitting, waiting patiently for the main actors to rise and shine. Fanny breaks wind while I break camp. Before leaving we reward our loyal fans with reading glasses and an Instamatic photo in exchange for two yams. A short dusting later we arrive in Tamale the Capital of the North.
Tamale is covered in the same red dust that is covering Williwaw so we merge well with the surrounding traffic and buildings. The whole place is a large junction town with nothing to offer but the choice of straight on, turn right or left to get out as quick as possible.
We have the misfortune to spot a Chinese restaurant. Over no 46 with fried rice, Florence's expresses her craving to see a proper African animal such as an Elephant or a Lion. It draws our attention to Mole Game Reserve laying to our west.
Getting to the Park is a cakewalk according to the Bible. A fuel stop later we turn right into the red dust haze and the sun.   We are on our way to our first Safari.   Safari comes from the Masie word for a journey. Our car chin waging summons up all the mysteries of the Dark Continent.   David Attenborough, here we come. Fuelled by years of National Geographic, Tarzan, Africa of our childhoods beckoned. It's the real thing at long last. Trackers examining fresh signs while in the distance vultures swirl in decreasing circulars marking death, a kill.
We stop at an Asian shop for supplies and exchange 200 ff on the black market for 65000 Cedi.   Trundling along in the dust once more my stomach rumbles to no 46. Williwaw brakes begin to whine, as does Florence "how much further from here."
The ride is uncomfortable due more so to our tyre mix than the need to travel at a reasonable speed over the corrugations.   We are forced to stop. The fine red dust has penetrated the brake discs. Luck is with us. Doctor Landrover is just up the road. In no time the brakes are on his operating table. A methodical cleaning is administered. Much to Florence's annoyance all is done in unrushed African time. Every item is scrutinized.
By the time we arrive at the gates to Mole's National Park which is sponsored by Kumasi Brewery limited it is not just my stomach that is protesting. The main game lodge is a large run-down building. The stagnated water in the swimming pool should have warned us that this 2000 sq kilometre Game Reserve on its last legs.
If the pool was not warning enough the immediate the demand for 500 Cedi by the new park manager is such an off-putting greeting it almost makes us turn tail.   He is rewarded by a red dusting dressing down from Fanny and me only to be saved from further abuse by a cold beer.
It sure did not look like above. The whole complex sat on an escarpment overlooking a large waterhole that was about half a kilometre away.
The room accommodation on offer is far from appealing.   We opt for a rooftop pitch No 56 overlooking a large watering hole just outside the lodge fencing.   While Fanny and I set up camp a very excited Florence stands transfixed by a large grey shape approaching us. "It's an Elephant! An Elephant. "Sure enough old Tusker is on his way down to us.   The girls take to the roof platform. There is no need to panic for this fellow has seen it all before. Whether he likes it or not he is our first large if far from wild African animal.   Out come the cameras. Click, click.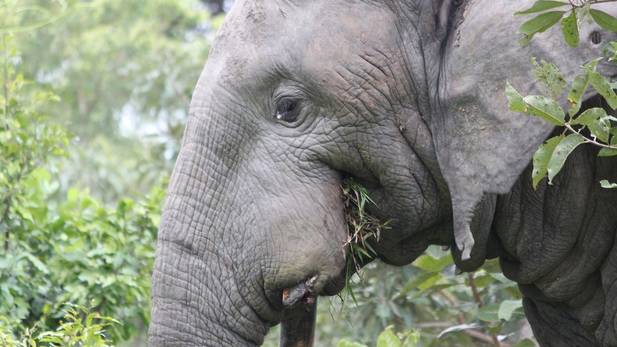 It is to be much later in our travels that we are to learn that the best pictures of wild animals are captured by patient observation. Indeed the very words Game Park/ Reserve somehow or other smudges our feelings that we are in the presence of a wild animal. We are also to learn that viewing an animal down the lens of a camera is not the way to appreciate its glory. Thank God we are not packing a video recorder.
Photographed from every angle tuskers eventually ambled off with the view that he is not being paid enough to be the opening star of Mole Reserve. With the excitement over, we settle down to supper. There is one thing for sure tusker has wetted our anticipation. Our next visitor is blue balls a black-faced Vervet monkey. (Top TIP: Buy a widow catapult you will need it to keep these cheeky blighters at bay.) Common to almost all game reserves they have little or no fear of man. They will raid your tent, seal your wallet, and give you the two fingers.   They are one of the few animals to have developed different sounding alarm calls that not only identify the predator but signal what the action is to be taken. Each alarm sounded tells the troop whether to bail out of the trees due to an incoming martial eagle, or run for hell or leather up a tree on spotting an advancing leopard.
All of this knowledge we are of course ignorant of. For the moment all we knew is that we have not seen there like before. More importantly, we learn that if it is a peaceful night rest you are looking for don't park under their chosen roost.
A harsh barking sound in the distant awakes us. From the warmth of our sleeping bags, it sounds like someone with a bad case of smokers a cough. Emerging from the tent I spot a small troop of Baboons on their way to the waterhole. A large male escorting the group is the source of our early morning awaking.
After a late breakfast, we venture out on our first sortie. Staying close to the main buildings we soon realize that only mad dogs and English men go out in the noonday sun. There is no sign of any movement. The silence is absolute, and it seems impossible to get enough air. We struggled back to camp for a siesta with a plan to take a guide in the morning and venture up-country in the park.
Being the only park visitors, and more importantly equipped with a Land Rover our request to go up to the parks northern camping site is received with great enthusiasm. All is arranged for an early start.
Next day all three Mole game rangers are awaiting us. After some explanations, we depart with one rifle armed ranger on the roof. It's not long before it becomes quite apparent even to us novus safari faiers that we are being taken for a ride. The first give away is the condition of the dirt track. Tricky driving would be an understatement.
The first stream crossing causes Williwaw and us more than the usual unease. In less than three kilometres into the trip, Williwaw is now pushing her way through tall elephant grass showering us with grass seeds. The chances of seeing any wildlife are as good as the possibilities of seeing a bottle of Star lager made by our park sponsors.
The main problem is that we are committed as there is no possibility of making a U-turn. On we go arriving at the Parks central camping site some hours later. It's a total dump convincing us beyond a doubt that this Safari outing should be terminated > this far and no further Mr Ranger. Zack our main ranger has to admit that no Park Rangers have being up the track for months. In the morrow, it is back boys back down the track before the Moles undermine it any further.
Zack guides us through some large trees out onto a lava rock covered area surrounded by large trees with a small water hole pitch no 57. On the rock surface, there is no alternative but to camp on the roof.   Watched by our fascinated ranger the whole camp operation takes thirty minutes.
For those of you who are interested in our rooftop set up designed by me.
Most commercial rooftop units on the market offered limited space with very cramped accommodation. Williwaws full roof rack apart from the front storage rack where we keep our empty water or jerry cans had the retaining walls removed leaving the frame flush with the Jeeps roof. On to the frame I placed three large boards. They make up our tent floorboards. The first floorboard the motherboard is permanently fixed to the roof rack frame. The two remaining boards each of the same dimensions as the motherboard rest on top of the motherboard. All are held in position for travelling by two large bolts that drop through all three boards. Using the same principle as sliding drawers I then designed two drawers frame to fit the boards. They could be pulled out and closed minus the bottoms on either side of the roof rack.
First, the floor retaining bolts holding our tent floorboards are removed. Once remover the floor frames are pulled out on opposite side of Williwaw. From the waving pipe attached to the underside of the roof rack the adjustable frame legs. With the frames level set, we then slide the two floorboards sections into the frames. Bob's your uncle a level area to erect our six-man tent. Next, we peg the tent secure in position by large wing nuts bolts dropped through pre-positioned holes in the floor.
Mount our ladder from under the roof rack. We hang our sleeping compartments, our mosquito nets, put our army beds and bedding into our sleeping quarters, plug-in our reading lights.
From a distance, we are sure to Zack that Williwaw looks like as some type of alien craft that has just landed on the hard rock. He stands gobsmacked till I beckon him to dinner.
An after-dinner visit a small waterhole has our Ranger convinced that we are in the presence of poachers.   Gods only knows what they are hunting as we had not seen a living thing all day long. Their comments add a sense of danger that we could do without.
A game of cards, a large ball of Irish whisky, and some reassuring words to the girls see us all in bed early. I bed Zack down, gun and all for added security against possible poachers in the tent porch. We all sleep soundly awaking bright and early to the now very familiar call of the ring-necked dove coo coco. Zack is already up. Florence puts it gracefully he is out looking for fresh poo.
Although we are camped on a hard rock surface there is a disquieting lushness about our site. Like most of us, we have a vision of African game reserves as being open places with never-ending stretches of grassy plains, sprinkled with flat-topped acacia trees. This is due to excessive exposure of Masi Mara television images in the spring when in fact there are many arid regions and not too many Forests.
By the time Zack returns we are ready to go. He once more reports that there are poachers about. What did I tell you say's Florence he has found fresh poo so we all marched over to the waterhole to have a look. A hand full of black stuff and some very smart rounded type stuff, brown in colour, confirms our collective opinion that whatever had dumped it had done so months ago.
Just in case we hit the road with some urgency before the moles indeed undermining the track. Florence enquiries of Zack if it's true that the wild Ghana moles make the holes in the track. "Yes and no, sometimes it's the ants." The journey back is long hot and arduous, impossible for any run of the mill vehicle.   The only highlight is a Warthog.   Arriving back without one a wildlife phototrophy to write home about we are covered in grass seed. The rest of the day is a right off.
That night I like a fool try a local Ghana dish, which looks like wallpaper plastering glue > A catastrophe. An early night is on the cards. The waterhole produces nothing of interest and we are just about to call it a day when Fanny comes running up to the ladder out of breath. Old tuskers looking exhausted, and pissed off is on the move behind the tent.
Next morning long before tuskers realises that we are also pisses off we cross the southern boundaries of the park after seventy or eighty miles of bone-shuddering corrugations that has us all at the end of our tethers.
From the park entrance at Larabanga we drive west through non descript villages with wonderful sounding names such as Kabanpe, Grupe, Nyanoa, Swala, Mankuma, Bogada, and the Dole. Eventually, we roar into Bole for a well-earned Guinness.   Williwaw has once more cracked her exhaust pipe.
Fanny reading the Bible comes to the rescue the Mission in Bole is a good place to stay the night.   Bole has all the gloomy charm of the other villages we have passed > A few shabby houses facing each other across a pothole, rutted, rippling, and dust-covered road.
(To be continued)
All donations much appreciated; R Dillon. Account no 62259189. Ulster Bank 33 College Green. Sorting Code: 98-50-10